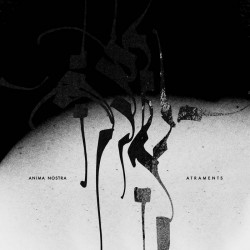 Anima Nostra
Atraments
Malignant Records
Henrik Nordvargr Björkk's name isn't just inseparable from the history of death industrial, it's also inseparable from an innumerable number of projects which have trod the full range of that blasted heath of a genre. So, when pundits like me try to describe a (relatively) recently formed project of Björkk's in relation to the genre he helped define, we're almost invariably going to be out of our depth in terms of placing it on that larger spectrum. Hell, for all I know Björkk has half a day's worth of never-released material in his archives which sits in close proximity to Atraments, but that doesn't stop the record from feeling like a fresh furnace blast of gnostic meanness.
The second full length from the collaborative project of Björkk and Margaux Renaudin adds further detail to the scene established on the duo's self-titled debut from last year, which amplified the ritual elements already present in the 'traditional' death industrial of Mz.412, and shot it through with unsettling, woozy ambiance. Atraments is a more forceful listen, more direct in its approach; vocal incantations are both more common and more present in the mix, and at times it feels as though some inspiration, if not direct instrumentation, has been taken from the likes of doom metal and perhaps even neo-classical. Less drone-heavy and far more bombastic, Atraments churns along with studied malevolence.
I can't say for certain whether opener "Composition For The Shadow Self" is actually using guitars to blast out its tight and ferocious buzzes or whether it's the product of intensely sculptured sound design, but either way the proximity to the likes of Celtic Frost feels palpable. Later on, "Blameless" leaves no such uncertainty; tying Björkk and Renaudin's unrepentant barks to a mercilessly punched in bass (if I have one complaint about the record it's that I was hoping for more vocals from Renaudin to add some further nuance). It's not just in 'traditional' rock instrumentation that new vitality is found: the organs in "Solemn Majesty" pair wonderfully with muted timpani-like drums, somehow livening a military march into an infernal jig.
My familiarity with Björkk's more classically industrial (and EBM) work is likely guiding my perspective on Anima Nostra. I'd be keen to know how those more familiar with, say, Neurosis than Pouppée Fabrikk might react to Atraments, but whatever one's point of entry to the record it's invigorating to hear such a diverse blend of instrumentation and ideas being carried forward with purpose and inspiration. Recommended.
Buy it on CD or digitally.