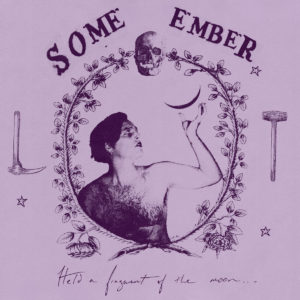 Some Ember
Held a Fragment of the Moon
self-released
Some Ember have been active and releasing music for nearly a decade now, transitioning through various styles and lineups while the willfully rough edges of their earliest material gradually gave way to a smooth and velvety take on the modern darkwave. You can hear the evolution in Dylan Travis' work on new EP Held a Fragment of the Moon, especially in terms of his programming and production which have a clarity that sets it apart from even his most recent efforts. That means that the synth bassline and snappy drums of "Excavate" have a pleasing weight to them, but allow plenty of space for Travis' dramatic vocal delivery on the song's hook to embed itself in the listener's ear. Similarly, "Fragment" works a post-punk rhythm section against synthesized choirs and a vocal lament that conveys emotion with carriage and impact in spite of the track's mournfulness. Travis' voice is especially important to the mood of the EP, his tenor delivery somewhere in the neighbourhood of latter-era Scott Walker, creating pockets of lament in the bouncy electro of "Wellspring", and doubled-up for dimensionality during the the half-time swing of "Rift". It's a brief but potent dose of an act who are forvever zeroing in on what makes them stand out from comparable acts in their style.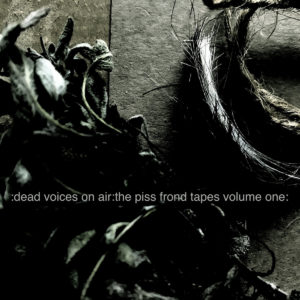 Dead Voices On Air
The Piss Frond Tapes Volume One
self-released
As we've discussed in the past, Piss Frond is a landmark achievement in Mark Spybey's distinguished career, and so an archival trawl through the demos which spawned that drone/experimental masterpiece comes as a welcome exercise. That this marks the first of two such releases, with the second to come in April, speaks to the creative run Dead Voices On Air was on at the close of the millennium, as is spelled out in the detailed notes which accompany the release and contain revelations that are eye-popping to experimental music fans and Vancouverites alike (Dadaist free association with Holger Czukay? Oh right, that Alexander Varty!). The early versions compiled here are arranged with the same sequencing as their final counterparts, allowing for the experience of listening to the record through a glass darkly. Some, like "The First Swan Flax" are almost indiscernible from the originals, while the roots version of Piss Frond centerpiece "Sulphur" is so radically minimal in comparison to its lush later execution that Spybey's valorization of the contributors who worked to flesh it out into what it would become begins to make sense. Piss Frond is a record of moods and textures, and so there's something of the uncanny about listening to an early version of "Red Kerre" which has its proportions and frequencies just tilted a bit differently here and there – akin to putting on a favourite sweater and finding it to be a shade bluer than you remember and just one of the arms half an inch longer. A couple of unreleased tracks plus thirty-odd minutes of live improv from a 1999 show add some extra value. An absolute must-purchase release for any fan of the original record.