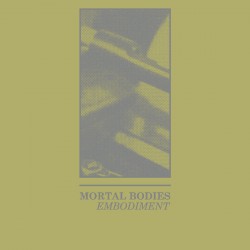 Mortal Bodies
Embodiment
Chondritic Sound
Percolating up from the recesses of Los Angeles' booming industrial and noise underground is the new release from Mortal Bodies, a duo comprised of Marc Gonya (Granite Mask) and Marfisia Bel. Embodiment is classically industrial in form, wedding squeals of controlled feedback, monstrous drones, and monotone vocals from Bel, all within cavernous reverbed spaces. It's not an entirely unique sound on paper, although what becomes clear in listening to the release is how artfully structured each track is, and how careful Mortal Bodies are not to tip over into self-indulgence. There's a discipline inherent in "Peeled Mirror"'s flapping rhythm track, or the metallic percussion sounds that infest "Social Obligations", each dialed in exactly to where they can define structure and provide texture without forcing themselves to the forefront. Those sorts of nigh-subconscious details are especially effective on "Light Solution", a sort of minimal-synth-by-way-of-ultra-slow-motion exercise, in which minor changes in each rhythmic repetition are spaced apart to the point that they take on a seismic, continental quality. When the duo do loosen up on arhythmic closer "Needs" it feels like a structural release; its oddly blunt hammering drums knocking apart the tension built up over the proceeding seven tracks. It's a relief that only exists in the context of Embodiment as a whole, and evidence of Mortal Bodies dedication to creating a vast, holistic experience beyond the immediate sum of their music's parts.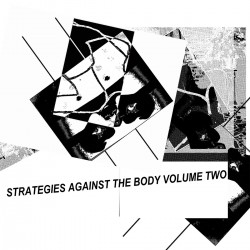 Various Artists
Strategies Against the Body vol. 2
DKA Records
Atlanta's DKA are rapidly becoming a tastemaker label, with their comparatively small catalogue of releases already showing the earmarks of saavy curation. The second volume of their Strategies Against the Body compilation trades in the same robotic minimal and raw body music of the previous installment, and is notable for staying ahead of the curve even as those sounds garner more attention from the broader world of electronic music. The tense reverberating sequences of Passing's "Sacrifice" hail from post-industrial climes, but its DIY production make it feel immediate and contemporary. Videograve invoke synthwave soundtrack sounds that have become increasingly common in 2017, differentiated by the deep groove of its strictly sequenced bassline. The DKA umbrella is further expanded by the funk-laden darkwave of Tifaret and the throwback electro of Xander Harris' "Social Leather", each distinct but not out of the place. That commonality is apparent even in the speed up then slow down chaos of Collin Gorman Weiland's "Indenture and Stone", a product of knowing what your label is about and working with the bands that fit that vision.