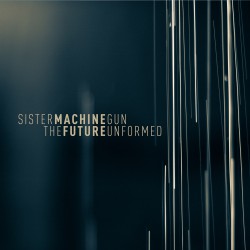 Sister Machine Gun
The Future Unformed
WTII Records
Chris Randall's decision to retire his long-running industrial rock project Sister Machine Gun in 2007 seemed pretty reasonable; the latter SMG albums had moved on sonically from the project's early Wax Trax releases and Randall was busy with his plugin company Audio Damage and solo material. It mostly sounded like he had just plain moved on, as he quoted in a blog entry from that era read "Dear industrial music: it's time we broke up. It's been over for years."
I think those circumstances inform the new EP under the Sister Machine Gun name to some degree or other. The Future Unformed has a kind of relaxed confidence to it: five new songs from an artist who is engaging with an old muse rather than trying to recapture past glories or prove something creatively. To that end it's appropriate that the EP opens with "Insect", with its squelchy machine noises and chunky guitar riffs playing out against tightly-sequenced drums that cleave close to the band's classic sound. If opening with that track functions as a kind of stylistic statement, following it with "Coldstar" plays as an overture to lapsed fans. Its bluesy electronic groove and loose sustained chords fall somewhere between late-period SMG and the material Randall has been releasing under his own name.
The latter three songs take slightly different tacks, leaning heavily on Randall's skill as a programmer and arranger. "Protest"'s insistent bassline and subtly varied 4/4 beat evoke Underworld well before the twangy, laconic vocals make the comparison even more accurate. "Subgod" is solidly groovy number with light touches of big-beat techno that make it feel like an alternate version of SMG's late 90s output, and the appropriately named "Closure" revisits some of "Insect"'s sounds in a more explicitly digital context, manipulating the sequences into a variety of glitched out forms.
Weirdly, I think the best way to subscribe the songs on The Future Unformed is that they're variations on a theme, and rather than that theme being something more broad like "industrial rock", it's actually very specifically "Sister Machine Gun". Every cut feels like a comment on that band's catalogue, and how it relates to where Chris Randall is as a musician and producer some 25 years since that group's advent. It's a fun collection of tunes, and while it's unclear if this is a coda or the beginnings of something new, it justifies itself as a part of SMG's legacy.