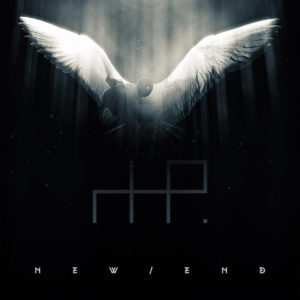 X Marks The Pedwalk
New / End
Meshwork
The iteration of German electro act X Marks The Pedwalk launched in 2010 with Inner Zone Journey has now existed for twice as long as André Schmechta's initial 1991-1996 run of records using the name. While not as incendiary or ground-breaking as that first batch of albums which fused post-industrial sounds with cutting edge arrangements and sounds connecting the normally insular genre to broader electronics well before the general industrial audience was prepared for such a move, a case can be made that the mature Pedwalk records have now eclipsed their predecessors in terms of pure songwriting and pleasure. Those willing to make such an argument will find ample support in the elegant minimalism of New / End.
None of the sounds or approaches to smooth, melodic electro found on New / End greatly vary from those on recent records like the preceding Transformation or Secrets. From the stone-skimming bounce of "Firestorm" to the loping builds of "Sacred Ground", X Marks offer up cleanly executed, mid-tempo tracks which are the descendants of the turn of the millennium club culture they helped to form. Again, the trading off of vocals between founding member Schmechta and his wife turned musical partner Estefania is part and parcel of modern Pedwalk's charm. Where New / End stands out, then, is in terms of efficiency.
While still carrying a sense of atmosphere abutting upon darkwave (which was explored in more detail on The House Of Rain, the arrangement and execution of New / End's tracks is pared down to the bone, with the listener's ear attuned to every moment of vocal delivery or subtle change in the core programming. For music which so often relies on complex effects chains and byzantine multi-tracking, this sparse approach puts the strength of the material itself front and center. The differences between the pure electropop of "Wonder", the slinky snap of "Kill Me Tonight", and the "mind.in.a.box deep-cut" feel of "Yesterday" actually become more apparent due to how simple their arrangements are.
At nine tracks and thirty-eight minutes, New / End doesn't just avoid wearing out its welcome, it leaves the listener actively wanting more (or at least wanting to give the record another spin). No tracks mope about for want of a hook, and you're never left wondering if you've heard a variation on a certain track fifteen minutes earlier. While that type of brevity is common to younger acts raised on purely digital releases, it's nice to see a legacy act show such a keen sense of self-curation. X Marks continue to age with grace and maturity, and have the records to prove it.