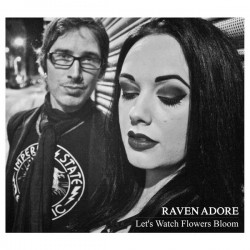 Raven Adore
Let's Watch Flowers Bloom
self-released
Oh lord, did Solemn Novena ever scratch a perpetual itch of mine. An itch to hear classic second wave goth guitar freakouts overtop of a flurry of drum machines while keening vocal melodies lent oodles of drama and significance to every nighttime walk or trot round the dancefloor. Tunes like "Twilight," "Siren," and "Missa Solemnis" had everything that drew me to goth rock in the first place, and were sweet succour in an age relatively bereft of bands capable of muscling up to the classic second wave formula. The Belfast band's dissolution was rough news, but it wasn't long before all three members announced new projects. Guitarist Marc McCourt stormed ahead with his Snakedance project, which if anything drove the most readily apparent parts of Solemn Novena's sound into the red: the debut EP is a whiplash-inducing set of classic goth fretwork and drum machine gun attacks. Now, the duo of Louise Crane and Stuart Harland have presented their first post-SN release, a five-track EP under their Raven Adore moniker.
Right out of the gate, Solemn Novena fans will be struck by how much Let's Watch Flowers Bloom is unmistakably the product of folks still inspired by the same sounds and styles around which that band circled, but a host of subtle but telling differences are also immediately apparent. The full-throttle attack of SN's instrumentation has been pulled back, giving each instrument a bit more room to roam and find its own space rather than relentlessly drive forward at all costs. While it's possible that the drums on Let's Watch Flowers Bloom are programmed, I can't be sure, and in goth rock that's tantamount to them being live anyway. There's a watery echo to much of the guitar that accentuates the dreamy side of the band's sound, and an undercurrent of acoustic strumming bolsters the comparatively muted bass. In short, this is a much more textured and richer sound than Solemn Novena aimed at.
All of that amounts to a hill of bat guano if the tunes don't deliver the goods, but thankfully we're in capable hands there. The melodic guitar hooks which Solemn Novena delivered with such apparent ease are still present, bolstered by plucked string sections, as on "Have You Lost Your Mind" and "Silence Is The Sweetest Sound" which lends dynamism important to shorter releases. Standout cut "Chase" has as much beguiling charm as any classic goth rock tune you'd care to name, but Louise's vocals on the chorus also put me in mind of Curve's "Blindfold," perhaps an indicator of how quickly and deftly Raven Adore have integrated a broader range of influences into their sound. Speaking of which, Louise's vocals are the one element which definitely hasn't been tamped down in the mix. In fact, I'd say that they're bigger and more expressive than ever before and offer a strong case for her now being mentioned alongside classic goth vocalists like Rachel Speight of Die Laughing and Candida Ridley of Inkubus Sukkubus.
While it differs strongly from the direction taken by McCourt, Let's Watch Flowers Bloom feels very much like a natural progression from Solemn Novena and should offer plenty of delights for those still spinning Kiss The Girls and As Darkness Falls. With that understanding, it also quickly establishes itself as a release by a new band who are as keen to stretch their wings and explore some new skies, albeit still darkened ones.