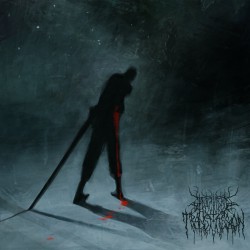 Fractured Transmission
In The Company Of Wolves
Death Camp Audio
Fractured Transmission's fourth LP certainly looks like a punishing piece of work at first glance. The wounded figure on the cover art, titles like "Enslaved To A Thought Of Regret", and sole member Nick Viola's extant work in power electronics and power noise had me anticipating a grueling endurance test. And while In The Company Of Wolves is certainly relentless and punishing, its savvy parlance in the 'trickier-than-they-look' nuances of rhythmic industrial gives it a dimension separate from the appeal of brute force.
If I were to hazard a guess, I'd postulate that Viola had drawn upon his experiences devoting himself wholly to atmosphere and sound design on his recent pure dark ambient Il Suono Del Silenzio release when planning out the aesthetic of In The Company Of Wolves. While there are a few interlude tracks composed entirely of muted, atmospheric strings and drones swirling in a misty harmonic haze, it's the attention that's given to how a particular drum or squall is left to hang in the air, echoing down across other furtive noises which speaks to how much Viola's taken from genres well outside of pure noise. On a related note, the chimes on "Dementia Regia" had me wondering if Viola was taking a lead from Iszoloscope's recent False Vacuum, which wove some similar melodic tones into its tapestry of near-total rhythm.
So much of what makes the masters of rhythmic industrial just that isn't pure sound design, though; the art of timing the ebb and flow of a track whose power comes from its own dynamics is what sets rhythmic noise apart from its more monotonous brethren, and Viola shows a knack for it here. A piece like "Enslaved By A Thought Of Regret" feels like a living, breathing, cybernetic organism, croaking and grinding along to its own internal clock, slowly beginning to exert itself, throwing itself into violent action, then slowing to recuperate. That feel for timing is also replicated in the album's sequencing; apart from the aforementioned mellow interludes, In The Company Of Wolves paces out the grinds and blasts before finishing strong with the excellent (and club-ready) "Nothing".
Acts like Iszoloscope, Wychdoktor, and Marching Dynamics have shown how much can still be done with rhythmic noise even now, nearly two decades on from its rise. Viola is certainly no newcomer to noisy and aggressive fare, but by tilting his work in a more rhythmic direction he's found new opportunities to expand his horizons, and rhythmic noise feels all the fresher for it.