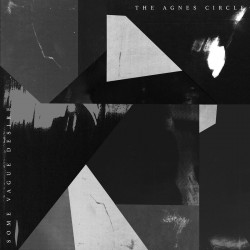 The Agnes Circle
Some Vague Desire
Avant! Records
The Agnes Circle hustled right out of the gate with their debut EP Modern Idea. The London duo's brisk arrival statement sketched out a clear understanding of both the dreamier and more intense sides of gothy post-punk, but was so brief it left me wondering how they'd handle longer-form tracks, let alone an LP. Some Vague Desire answers that query by staying on the brief side, but by mixing in a little bit of each of the band's melancholy shades into all of the record's eight tracks.
Unlike Modern Idea, the tracks on Some Vague Desire feel like a smoother integration of each of the sounds from the goth and post-punk histories The Agnes Circle draw from. From formative to current sounds, nearly every track draws as much from, say, Skeletal Family as Lowlife as fellow Avant! artists Night Sins. This can make for some wonderfully realized compositions; "Law Of Angels" unfolds out of itself with grace and panache, with sparkling guitar lines emerging out of a building mist like the most regal of goth tracks. Care and effort has gone into weaving a blend of sounds and moods throughout each tune, rather than impulsively striking out in one particular direction; compare "Venetian Boy" and "Sister Flux" from the debut with multi-faceted numbers from Some Vague Desire like "Monument".
At the same time, that careful crafting process sometimes has the unintended effect of bringing tracks rather close together, with each element combining to produce a sort of homeostasis. Tracks like "Underneath The Ivy" and "Under Reason" still blur in my head after a week of listening, and despite the LP's brief 32 minute run-time, it can be tricky to track its sequencing.
But issues like that aren't a dealbreaker, and there are plenty of subtler perks to be found beneath the chassis of Some Vague Desire. Florian Voytek's often impassive voice gives itself over to knowing chiding and commentary here and there (reminding me somewhat of Kindest Cuts' Patrick Edward), adding some wit and verve to "Martial Love". With plenty of smooth nuance to appeal to the more introspective side of gothdom, Some Vague Desire shows that The Agnes Circle can charm even when they're holding themselves in check.