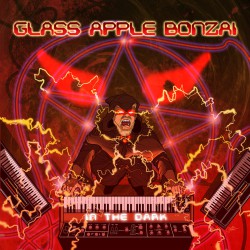 Glass Apple Bonzai
In The Dark
Artoffact Records
Daniel X Belasco's first album for Artoffact is (like his previous two LPs as Glass Apple Bonzai) an effective bridge between classic synthpop and neon synthwave sounds. Oh, and its primary theme is devil worship. It's a mildly incongruous blend of elements but it works, primarily because Belasco commits to it fully, coupling VHS-era satanic panic samples with some of the strongest songwriting and production yet heard from the Ontario based artist.
In The Dark puts its cards on the table at the outset with "Light in the Darkness (Overture)", with sinister church bells and distant weeping slowly giving away to a galloping bassline and giant synth leads. Like any good overture it serves to introduce us to the rest of the work, its bombast flowing easily in the low-key "Holy War" and on into the blasphemous synth-funk of the title track. Indeed "In The Dark" is as close as Glass Apple Bonzai has ever sounded to The Gap Band or Zapp, complete with the vocoders and a more-bounce-to-the-ounce bassline. The LP features a few similarly interesting stylistic excursions, like the Art of Noise sampledelica of "Unholy" and the dreamy new wave of "Modern Light", the latter of which comes complete with a solemn monologue by labelmate Alex Reed of Seeming.
The album's bread and butter is in synthpop hooks though, and there are more than enough of them to keep the record moving. "Suicide You and I" and closer "A Wicked Fire (Finale)" are sticky sweet, their trilling synths and gated drums a perfect vehicle for Belasco's smooth radio-voice vocals. It's a hell of a voice indeed, and a goodly portion of what makes the record successful is how it gets used. Belasco goes all in on his songs, even when he's singing about midnight rituals to invoke El Diablo or hellfire as metaphor for burnin' love he sounds deadly sincere.
And that might be one of In The Dark and Glass Apple Bonzai's greatest strengths. The temptation with retro-themed synth music is often to wink to the listener, using irony to preemptively head off any criticism. In refusing to cling to detachment as a safety net GAB never undercuts the impact of their songs. Indeed, a Satanic synthpop record might not sound like the number one candidate for a superlative like "genuine", but Belasco earns it; truly a case where you have to give the devil his due.