As we think a lot of folks noticed last week, we've been able to make the first of many technical upgrades to the workflow and production quality 'round here at the ID:UD HQ thanks to our Patreon supporters. The new microphones we added to the podcast setup certainly went a ways towards making us more happy with the sound quality of our weekly babble, and we hope folks dig it. We've been bowled over by the amount of support that's been shown since we started up a Patreon account, and we're happy to start directly putting that support back into I Die: You Die's output. Thanks again, all. Here are six tracks to get your week off on the right foot.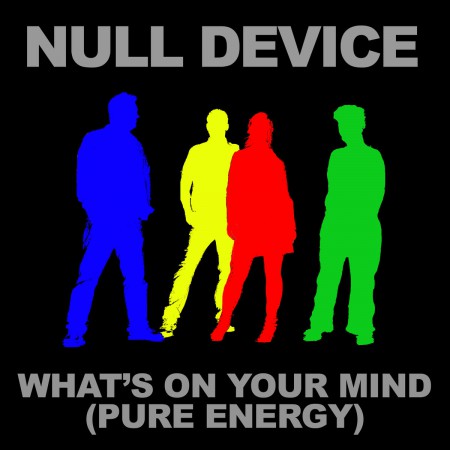 Null Device, "What 's On Your Mind (Pure Energy)"
Wisconsin's Null Device drop a quick digestif after their enjoyable 2016 effort While You Were Otherwise Engaged, a cover of the Information Society classic. While the original came at the end of synthpop's original run on the charts it feels like Null Device have taken the song to an even more traditional place, with some nice duet vocals on the chorus and those world instrument touches that mark a great many ND productions. Also (and it took us a moment to notice this), the Bandcamp artwork has a nice shoutout to the original 12″ design.

Alone, "Prison Built Of You"
Some intriguing impressionist stuff which straddles the line between experimental minimal wave and synthpop. Alone is a long-running Serbian act who are only coming to our attention now thanks to the forthcoming Unyou being released by Chondritic Sound. Check the release page for full details on the circumstances of its production, but you don't need to do much more than listen to get a sense of how vibrant and off the cuff Nikola Vitković's synth work is.

Black Nail Cabaret, "Therapy"
Basic Unit will be releasing the new album from Black Nail Cabaret Dichromat on December 23rd, making it possibly the last new record we are anticipating before this godforsaken year comes to an end. We feel like it'll be a good one to end 2016 on: the band's laidback electropop and the unique and emotive delivery of BNC's Emese Arvai-Illes are the best kind of musical comfort food. As evidenced by the simplicity of "Nostalgia", this is music with an enveloping warmth all its own.

Randal Collier-Ford, "Nomad"
Dark ambient wunderkind Randal Collier-Ford is hard to keep up with. His last release, Remnants, took a turn towards the abstract and cosmic after having traded heavily in gnostic and theosophical themes. His latest work looks to mark an even more abrupt shift, with Piano Movements looking to live perfectly up to its title. Melancholy and reflective figures and melodies trickle past, while in the background Collier-Ford's more familiar drones and sweeps act as support. Quite pretty.

GHXST, "Waiting For The Night"
New York's GHXST have a new tape which looks to be continuing the roll of southern-gothic flecked, noisy darkwave they've been working on of late. Few acts of their alumnus manage to get so much mileage out of a grimy, lo-fi approach (Remember when we were calling this stuff gravewave for a minute? Anyone?)

L∆ RISSA, "A Man's World"
We don't know much about L∆ RISSA, but sometimes a song speaks for itself, you know? This one came to us via random Bandcamp trawling, and we were struck not only by the Leeds-based producer/performer's voice, but her presence on each track of the recent Control EP. You looking for the ground floor on new dark synth artist with a low profile but a high ceiling? Look no further.