So here we are, back with your first regularly scheduled Tracks post in nearly a month. On the one hand, yes, that means we've got a slew of new songs to poke through and report on, but on the other that means we've gotten a bit soft what with all the vegan holiday roast, whiskey, and sleeping in that comes with our downtime. But don't let our sluggish form dissuade you; we're here with a fresh batch of cuts to get the year rolling which are in far finer fighting form that us. You guys…you guys go on ahead. We'll just take a knee for a minute…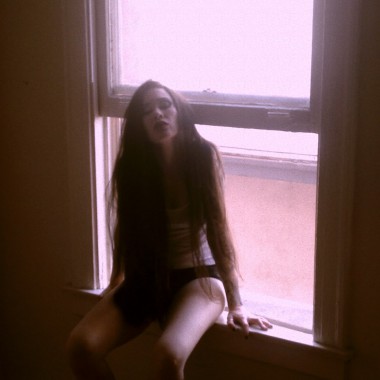 Ari Mason, "Dim the Lights (Burnt Out)"
Negative Gain Productions put the lid on a stellar year with this single from Los Angelean Ari Mason. We think we might've caught wind of her Xymox cover a while back, but her original material's well worth your time, with the odd touch of midnight minimal/darkwave shaded over elegant synthpop sketches. Sounds as though NGP will be releasing her sophomore album later this year, and we'd be very interested in hearing what someone with roots in Europe's trad scene will come up with in the mutant hotbed of LA.

Vandalaze, "Great Big Things"
Do you like synth-funk, Tapeheads, and Art Of Noise tracks that are 92% orch hits? Because holy crap Vandalaze/Slimetrax mad scientist Cory You certainly does. We assume. The Vandalaze project cannily draws neon felt marker lines between EBM and its kookier neighbouring genres and sounds with sample-happy irreverence. You's a canny navigator of the modern currents of Our Thing as well as its history, and you can expect a closer look at Vandalaze's third full length in this space in the weeks to come.

WIK▲N, "Thee Heavy Air"
WIK▲N hasn't been the showiest or noisiest act to come out of the witchouse diaspora, but a free DL split with perennial ID:UD darlings D/SIR certainly caught our attention. A simple enough piano figure is built up with the sort of drumming and atmospherics we've come to expect from the UK producer. He's about due for another EP, we reckon.

Kangarot, "XM Comedy (Instrumental Version)"
Something new from industrialist Josh Reed's Kangarot is usually enough to perk our ears up, especially when it shows up as part of a neat compilation from Greece's Underground Industrial Records. As evidenced by this collection, the last couple of years have been pretty great for tweaky, lo-fi electro industrial, and this number Reed fits very nicely alongside tracks from other low profile (but worth peeping) acts like Cyborgs on Crack, DPRM and Blut Reaktor.

Urusai, "Faultline"
So, apparently Karloz M of Manufactura fame has activated a new incarnation of indie industrial label Crunch Pod in association with his own Auricle Media to put out a new compilation of noisy, technoid and ambient sounds. Whether this is a full reactivation of Crunch Pod as an entity to release music is unclear, but hey, have a gander at The Future of Dreaming's excellent line-up of contributors, including Nimon, Synapscape, W.A.S.T.E., Iszoloscope, ESA, Flint Glass and many many more. Plus a new number from friend of ID:UD Gregg McGillivray's Urusai? Well worth your time to check out, we'd say.

VERIN & ∆AIMON (feat. Chris Vaughn), "Come Down (LOSS remix)"
Waaaay back in March of last year we pointed out this collab between VERIN (aka Chris Shortt) and the ever inspiring ∆AIMON, a tribute to the late Ric Laciak of RAS DVA fame. Some 10 months later we've got a massive 10 track remix single for the song, appearing under the auspices of audiotrauma, the label run by Arco and Syco Trauma of Chrysalide fame. Appropriately, Chrysalide delivers a mix, alongside Cardinal Noire, Inexora, and a host of others. Check this moody bit of low-key industrial atmosphere from LOSS, and then go scoop up the whole thing.