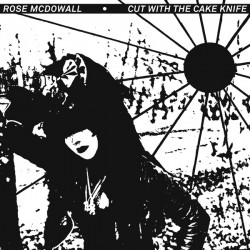 Rose McDowall
Cut With The Cake Knife
Sacred Bones
What is it?
The dual nature of Strawberry Switchblade, so perfectly captured by their name, played no small part in the end of Jill Bryson and Rose McDowall's creative partnership. Nominally lumped in with the "new pop" of Orange Juice and Aztec Camera more due to friendship and proximity than actual sound, their sugary synth-heavy gems were always delivered with a Bronte-like, introverted drama which earned them perpetual sainthood in gothdom. But the pop success which the bright and sunny side of their music made seem inevitable came at the cost of edging out the darker, more reflective and substantial elements of their sounds and personalities in the public eye. Interviews began to center entirely on their clothes ("What's your favourite colour? Where do you buy your ribbons?"), and increased touring pressures compounded stresses within the group and Bryson's much-discussed agoraphobia. After the duo split, McDowall continued writing and demoing material which followed directly from her work with Bryson, which is finally receiving wide release via Sacred Bones.
What's on this reissue?
Cut With The Cake Knife is chiefly composed of nine demos McDowall laid down between 1986 and 1988. While these were self-released in 2004, that pressing was limited to just 500 CDs, and given the prices it now fetches, this unlimited pressing should be well met. Sweetening the deal are the two tracks from McDowall's "Don't Fear The Reaper" 7″ released in 1988.
Musically, McDowall's still very much working in the insular, emotive vein which has made the original Strawberry Switchblade so enduring on Cake Knife; the title track was in fact written before the split and had been intended for the second, never-recorded Switchblade album. Indeed, there's a remarkable unity to these tracks considering they were recorded in different countries with a plethora of different musicians and friends. That said, there's the odd pointer towards the dreamier, more occluded work she'd embark on with her subsequent Sorrow and Spell projects, as on the languid "Soldier". Tunes written in honour of friends and future frequent collaborators like David Tibet and Genesis P'Orridge point to the community she'd find in post-industrial and neo-folk circles after looking from the outside in at the pop world.
The Blue Öyster Cult cover feels like an odd match for the familiar McDowall toolkit of drum machines, mandolins and easy going synths, especially with the muscular vocal read she lends to it. B-side "Crystal Days" is a much more rewarding effort, sounding uncannily like fellow Scots The Jesus & Mary Chain's "Something's Wrong" filtered through the melancholy pop perfection of the original Strawberry Switchblade formula.
Who should buy it?
Die-hard Strawberry/McDowall fans will likely have heard most if not all of these tunes thanks to the 2004 release (and I believe several if not all of these tracks had been heavily bootlegged previous to that). That said, the new liner notes from McDowall and photos in the sleeve (not to mention the crassly hilarious "Buy Me And Fuck Off" poster which comes with the special edition put together by Sacred Bones) should be more than enough to push them over the edge. While those unfamiliar with it are probably still better off seeking out the original Strawberry Switchblade catalog (the 2006 compilation which collects just about all of their material is still floating about), Cut With The Cake Knife makes for an intriguing connection between the more established phases of McDowall's work.