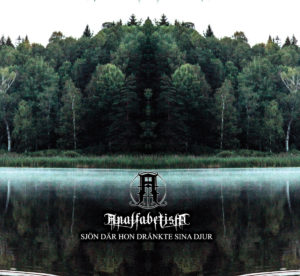 Analfabetism
Sjön Där Hon Dränkte Sina Djur
self-released
While we initially approached Fredrik Djurfeldt's work as Analfabetism as a side project while Severe Illusion was on the shelf, the former project's now been releasing music at such a sustained and aesthetically consistent clip that not only has it gained its own distinct identity, but has come to represent a purer distillation of Djurfeldt's uncompromising industrialism. Fifth LP Sjön Där Hon Dränkte Sina Djur continues to push Analfabetism's classic, richly developed style of industrial in some new directions without wholly cleaving from Djurfeldt's early path.
Preceding record Kniven Sitter Kvar I Bonden used sustained, dark ambient styled pads as a means of dialing down the chaos and aggression of Analfabetism's noise and death industrial attack while still providing a through line. No such calming elements are found here; instead a near constant stream of low, often bubbling and crackling drones acts as a base for squalling distortion and rumbles which might be percussion or explosions happening miles away. The overall effect is one of sustained menace and threat, effective even when it doesn't need to be cashed in. The ritual dark ambient pulse and noisy fog of "Kråkeld" and the tremoring, sustained drone of "I Jern Ock Svartmalm Slagna" are fairly different in both composition and palette, but share the same grim mood.
Similarly, the thematics of Sjön Där Hon Dränkte Sina Djur compound the oddly pastoral and rural turn Kniven Sitter Kvar I Bonden heralded, moving further away from the overt misanthropy of early Analfabetism LPs and into the metaphysical. Song titles point to Norse mythology ("Vættr", "Miðgarðsormr"), and plenty of down-pitched and warped vocal samples connote the otherworldly (whether in Swedish or another language is impossible to tell). That there are no musical concessions to acoustic sounds throughout makes for some interesting contrasts – an homage to mythological beings like "Ihjäl De Vittra" might prompt cod-folkisms in most other producers, but Djurfeldt sticks to his sound and delivers the most overtly industrial piece on the record, with power plant-like hums phasing in and out.
It's oddly rewarding to chart the subtle differences in a project so unremittingly bleak as Analfabetism. Released with the pithy tag "Genuine Scandinavian Depression. Again.", Sjön Där Hon Dränkte Sina Djur makes no concessions, and has no interest in meeting casual listeners halfway. Instead, we get a detailed look at where one of Sweden's most dedicated engineers of noise has been led by his muse. The destination might be morose and harsh, but the journey is the reward.