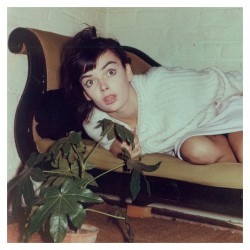 OLMS
Terror
self-released
In a recent Facebook post addressing the question of his prolific release schedule, OLMS' Dennis Hudson started his response with "fuck studios, fuck labels and fuck bands". It's as close to a mission statement or at least a methodology as you're likely to get for the incredibly productive Detroit artist, whose Bandcamp has more than 20 releases from 2011 to present, including a full length from his explicitly industrial project White Christian Male and his latest as OLMS released in the last month alone. While that DIY finish-it-and-self-release-it mentality certainly shapes Terror from a recording standpoint, it's just one signpost of the fierce individuality that informs Hudson's synth music.
The sound of OLMS has usually played somewhere in between post-punk and electropop (right up to and including this year's two previous releases under the name Before I go. and Spring.), but there's a still darker cast to the eight tunes included here. Early numbers like opener "No one dances." and "I will let you down." are largely carried by crunchy kick snare patterns and pulsing filtered bass synths, their leads drenched in cavernous amounts of dark reverb. Some brighter stabs of noise do pop up in various spots, although the inclusion of a carefully articulated arpeggio on "The end." mostly serves to highlight the track's shadowy underpinnings and set-off the distorted echo of Hudson's vocals that bounce around the periphery. When the charming synthpop of "A bluer moon" shows up near the end of the record it feels positively cathartic, a little patch of warmth and light in some otherwise very obscure territory.
Still, a large portion of OLMS' personality is conveyed through the way in which vocals are presented. Hudson is perfectly capable of playing the tragic crooner (and does on the dirgey "Crooked Arms"), but will often go out of his way to make his voice more alien, like on "This Collection" where a slightly offkey doubling gives the song an unnerving tone that contrasts its wistful melody. During the climax of "No one dances." he adds a whole other vocal line that weaves around and pushes the original vocals out of the spotlight, flirting with collision without ever commiting. There's no suggestion these choices are some attempt to cover for a shortcoming in ability, instead they feel confrontational. OLMS isn't interested in making things too easy for you, and what better way to perk your ears up than by twisting around the most identifiably human aspect of his music? That's OLMS and Hudson in the proverbial nutshell, constantly building up and then subverting himself in a rapid cycle of releases, less concerned with perfection than with raw expression.