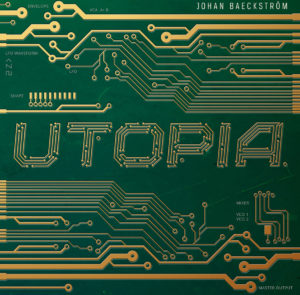 Johan Baeckström
Utopia
Progress Productions
Johan Baeckström has been making retro-synthpop since the mid-90s, when it wasn't widely considered a very cool genre of music to emulate. Concurrent with the reactivation of his Daily Planet project with vocalist Jarmo Ollila, Baeckström stepped out as a solo artist in 2015 with the release of Like Before, an appropriately titled collection of classic 80s style synth compositions. New album Utopia continues on in the same vein, with sweet vocal and synth melodies that hearken back to the golden age of synthesized pop.
Make no mistake, Utopia is about as classic a genre exercise as you're likely to hear, from the extensive use of analogue monosynths to Baeckström's gentle, melodic singing. You could be forgiven for thinking that tracks like the upbeat "Silence" or "Homeless" were actually vintage tracks just recently unearthed, so close are they to classic OMD in style and execution. That's not a bad thing, mind you, as Baeckström has a knack for coming up with brand new melodies that give the rush of the familiar from the first moment you hear them. Check the chorus to the title track, which flies aloft on a gentle bed of synth swooshes and delicately assembled and arranged sequences, so simple but with some real power behind it thanks to good old fashioned songwriting.
Baeckström's devotion to the bygone doesn't read as a conceit necessarily, but it does raise some interesting questions about taking this approach to synthpop. It's interesting to consider how a song like closer "Blinded", with its slow, twinkling synths and brassy pads might have come to life a little more with some more modern shine on it, or how the wonderful hook to "I Can Read Your Mind" could stand out a bit more from the surrounding songs if its synth palette was more varied. Then again, one of the strengths of the album is in the almost formal simplicity of the production, and the unity it imparts. Would "Into the 80s" (whose coy phrasing cleverly speaks to the influence of glam on acts like Ultavox) be a better song rendered in a modern style? Certainly not. There's never a sense that Baeckström doesn't understand the trade-offs he's embracing in his delivery, and the sheer number of years he's been working to perfect his take on it should speak to the purity of his intentions. Utopia is singular in focus and execution, and those with a sweet tooth for the archetypal sounds it deals in should be well pleased by it.