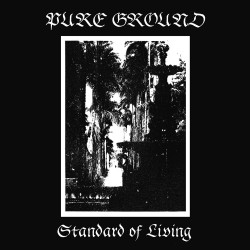 Pure Ground
Standard of Living
Chondritic Sound
I hesitate to apply the word minimal to the music made by Los Angeles' Pure Ground. The term's connotations in the context of synth music – affected detachment, wistful angst and slight arrangements – are almost the exact opposite of what Greh Holger and Jesse Short achieve on their latest album, a record that is constantly either boiling or the verge of doing so. Its use of synths, drum machines and voice is calculated for impact, disregarding adornment and making the most of a deliberately limited analogue arsenal, only minimal in the way exposed muscle and bone are; all crude purpose and no embellishment.
In essence what Pure Ground are making here is a scaled back version of post-industrial or early EBM, often (as on the whipcracking single "Poison") akin to the feverish sounds of The Klinik, a brutally simple aesthetic that relies on each element to carry its own weight. Without the crushed snares and short-reverbed shouting vocals, the hypnotic bassline of "A War in Every House" would fall flat before the plinky synth lead gets introduced, and closer "Tides" relies on the plodding drums crashing below the howling feeback on its surface to keep it in motion. Nothing unnecessary can thrive in the environment of these songs. Holger and Short make careful room for the occasional vocal sample or whirring pad to make an appearance, but keep things bare as if by necessity as much as choice.
So much of whether you can enjoy this sort of thing really depends on how well you can acclimate to how arid and desolate it is. It's the vocals that really provide a necessary bridge in that regard, especially on first-impression opener "Second Skin" where "an ill-wind blows through dimlit streets", ushering the listener into its rattling, rolling jaunt through some unnamed cityscape on foot. Elsewhere Greh's voices serves as accompaniment to the action, like on "Centuries in Gold" where he intones lines about his own skin dissolving before a corroded synth patch emerges to engulf the song's chorus.
As a collection of tunes Standard of Living is as close to a statement of what Pure Ground is about as the group has yet produced. Its love-it-or-hate-it griminess, its grim atmosphere, its mounting tension – these are the things likely to attract and repulse listeners in equal measure. I don't mind admitting that I sometimes find it a bit of a struggle in the best way. Pure Ground have tapped into a kind of essential roughness that pervades even it's most accessible moments. As it pulses and spits its way across the landscape we can either run along side it or get out of its way.