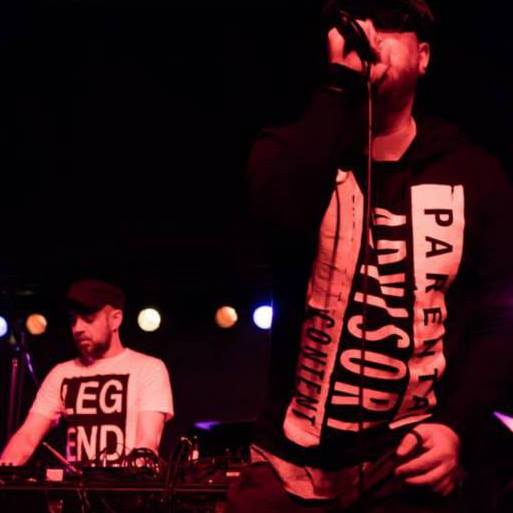 People seemed to get a kick out of us passing the mic to V▲LH▲LL for our weekly tracks post a couple of months ago, so we thought we'd lean on some other friends of the site to see what new tunes they were feeling. In that spirit of slacking off broadening the conversation, we're happy to have none other than Haujobb sitting in for this guest edition of Tracks. Daniel Myer and Dejan Samardzic are working on the 'jobb's eighth LP Blendwerk after finishing their duties on the celebrated Eye Vs. Spy tour; let's find out what sounds are getting them fired up!
Dejan: David Carretta, "System"
DS: This is from Carretta´s latest EP "Land Of Sin", released end of last year by Zone-Music, which is The Hacker's/Gesaffelstein's own label. I like his harder tracks, like this one, a lot. They strangely often feel like "Oh, I've heard this before, maybe 20 or 25 years ago", but you didn't. Must be listened to very loud.
DM: I lost interest in him for a while, and then he returned last year for me. I don´t know, what happened, but he got his spark back.
DS: I tend to think that his remixes for other artists are often better than his own tracks.
DM: Yeah, I guess he is a better Producer than Songwriter.

Daniel: Objekt, "Ganzfeld"
DM: I am sure he heard a lot of Warp and Arcola Records and this one in general sounds like Cane's "Fall" transported into 2014, just the way I like it. A little bit of funk in the bassline, that drops in every now and then. This is my kind of Electronica. Playful, tricky, full of amazing programming. Very inspiring.
DS: Oh wow! "A little bit of Funk"? That bassline is almost too funky for me, haha. I like how it never gets boring. While listening I'm constantly asking myself "when is that bassline going to drop next?" and "how will it sound this time?"
DM: Hahahaha, I understand the too funky part. Thats' my problem with most of the newer Daft Punk tracks…
DS: I think I have become allergic to Daft Punk.

Dejan: Adan & Ilse, "Sun King"
DS: From the album Cold Diamonds to be released March 1st by Unknown Pleasures Records. I like the warmth of this song. And I love the vocals! Nostalgia!
DM: What can I say, I am fan. Love these guys and the production. Glad to be able to work with them.
DS: That damned thing stuck in my head all day when I compiled my list.

Daniel: Clock DVA, "Kabaret 13"
DM: I saw them 4 weeks ago at a small club in Leipzig and they blew my mind. End of story.
DS: Somehow uneasy and claustrophobic. Those vocal samples sound great. No cheese in sight. End of story.

Dejan: RedRedRed, "An Unrelenting Hour"
DS: This has just been released on DKA Records' compilation Strategies Against The Body. It's my favourite track from this release. The bassline synth sounds fantastic. So far, I haven't heard anything from this guy that disappointed me.
DM: He actually disappointed me. We got in touch and I sent him the stems to our single with Jean-Luc. He wanted to do a remix but he never got back to me. Damn him, he is so fucking talented, hahahaha.

Daniel: Viktoria Modesta, "Prototype"
Daniel: I love pop music. I usually care more for a good song, than this overpolished, overstyled kind of pop. But I love the fact, that she uses her "flaw" as an asset. And the snare is amazing, the bassline kicks ass and the video is just stunning. Krischan introduced me to this, if I remember correct. Love him, haha.
DS: Yeah, I think this is what Krischan is going to do with Rotersand as their new direction, haha. The last minute of this video is the best part. Ever noticed how this part is a great sample source?
DM: Already used it.
DS: Of course you did.