Hey pals. You may have noticed that our tracks have been a little more varied in scope of late, including more outré selections along with the in-our-lane gothicky industrial hoo-ha. A big part of that is us responding to the change in scope we've seen in Our Thing over the last couple years, where genre borders are becoming even more blurred and more disparate sounds have made their way into the (admittedly loosely defined) area we cover. It's also a response to our interest in different areas we didn't use to cover quite so much: while we've always had a taste for dark ambient and minimal synth musics, we haven't always prioritized 'em. That doesn't mean Tracks or any of our other features are gonna be a free-for-all, more that we're looking to keep things lively by indulging some of our related music interests more frequently, so long as we thing you might find them neat as well. Have a sampling of the stuff below, and tell us what you think.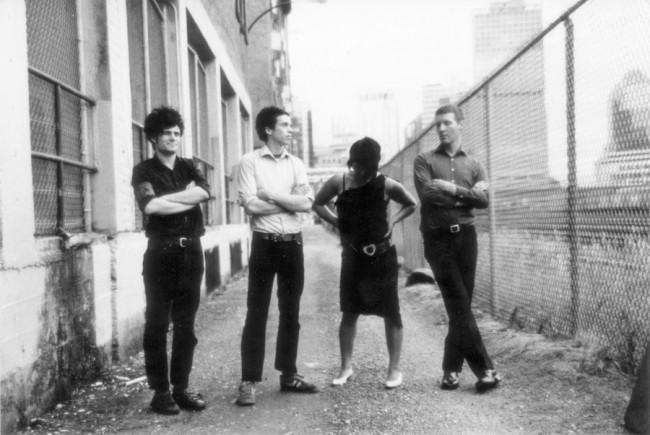 Autodafeh, "Digital Citizen"
We'll admit that we didn't care for Autodafeh's last album as much as the ones that preceded it, but they're still an act we have all kinds of time for. If this track from the forthcoming album of the same name is indicative of the sound they're pursuing, then we're definitely intrigued; classic body music updated with some nice distorted grind and a very raunchy vocoder for good measure.

Inexora, "We Are The Demons"
After cleaning out his harddrive of the past ten years of work and sketches via his Prototype Archives series, Mike Mayer is at work on the first official releases of his Inexora project. A peek's been given into the process via a set of demos which showcase a love for classic dark electro, combined with more experimental collages of rock instrumentation and sampling. Incredibly promising and well sculpted, be sure to check this out if you dig the likes of Kangarot and yelworC.

Dead Voices On Air, ":orejo on:"
Mark Spybey's just issued a trio of DVOA releases via BandCamp: a recent live set, a clutch of demos from the Frankie Pett era, and New Year, an EP of drone compositions tracked right as the clock ticked over to 2015. The product of live, improvised brappage, stuff like this shows just how effortlessly musical Spybey's work always is, even as he's continuing to push the technical and atmospheric envelope.

XP8, "Dancing, Dying, Dreaming"
The third and last of XP8's alchemically-themed EPs has just been released, signalling the end of the Marc/kos' run after a decade and a half in the game. Our first passes at these tracks indicate that nothing is being left in the tank, with Marko Resurreccion delivering a particularly strong set of vocals. Arrivederci, boys: it's been a grand ride.

Neuroticfish, "The Creep"
We love Neuroticfish pretty unapologetically. There's something about Sascha Mario Klein's futurepop that just lends itself to wistful looks back at yesteryear. His post-comeback tracks like "Silence" and "Former Me" have been pretty regular rotation around the HQ, and now we have "The Creep", a nice mid-tempo number that Klein says is an attempt to recapture the sound of their first record No Instruments. New LP A Sign of Life arrives March 27th; keen to see if it lives up to our surprisingly high expectations.

Radio Berlin, "Eyes Like Lenses"
As we continue to champion new dark Vancouver acts, a crucial part of our city's musical history has just transitioned over to a more modern(e) mode (see what we did there?). Radio Berlin's three LPs have just made it to BandCamp, and there's an archival site to boot. Drawing upon a classic dark post-punk template and shooting it through with an utterly immediate sense of vitality, Radio Berlin garnered a cult following comprised of goths, indie rockers, and hardcore kids alike at the turn of the millennium. While all three releases are excellent, you could do worse than to start by checking out The Selection Drone.