Hey y'all, welcome back to the working week. We normally count on January and February to be kind of dead for new releases so we can catch up on all the stuff we missed out on in the previous calendar year, but so far 2015 has seemed kind of stacked with new stuff to listen, be it interstitial releases from acts we love or interesting one-offs from the many acts we try to keep tabs on. That means we're in danger of missing out on good new music, and so we'll take this opportunity to remind you that a comment or e-mail linking us to some good stuff is always appreciated, and often times keeps us ahead of the game. Some of the artists we've genuinely grown to love through ID:UD came to us via readers, so never hesitate to give us a holler. You know what we like by this point, and we deeply appreciate you lending us your ears. Onwards with a particularly hot installment of Tracks!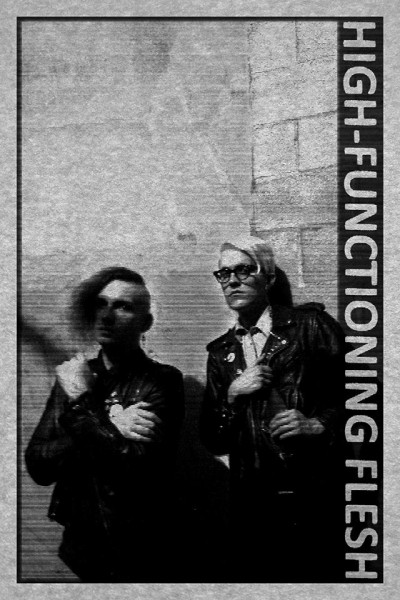 High-Functioning Flesh, "Confuse the Call"
Brand new exclusivity from ID:UD favourites High-Functioning Flesh courtesy of the good folks at DKA Records (who put out HFF's excellent A Unity Of Miseries, A Misery Of Unities last year, go buy it now). HFF's tough retro-futuristic body sound acts as an excellent taster for DKA's upcoming state of the union compilation Strategies Against The Body, a collection of modern industrial acts that also features Tannhäuser Gate, Xander Harris, RedRedRed, Tifaret and TWINS. Head on over to Bandcamp to pre-order the vinyl or digital version, and crank this one up in the meantime.

iVardensphere, "Stygian"
Burning fire from out Edmonton way as Scott Fox's analogue-synth werebeast iVardensphere comes roaring back with new single "Stygian". Their last album The Methuselah Tree felt like a real coming-into-their-own kinda LP, and this picks up right where it left off. There's a deceptive simplicity that makes this one work as well as it does, nothing unnecessary in the mix to detract from Jamie Blacker's distinctive vocals and a seriously grinding synth groove. This might actually be the best club track the iVs have produced yet, straight up. We were already pretty stoked for the forthcoming Fable, and now we're pretty much salivating.

The Gothsicles, "Death Touch"
We're already predisposed to love The Gothsicles' shtick, but releasing an EP named after one of Lovecraft's greatest creation (who shall put on the semblance of men, the waxen mask and the robe that hides, and come down from the world of Seven Suns to mock) with art from Musik Pictures I Drawn just further scratches our itch. And hell, a song about "Bloodsport"? Heck yes.

Michael A. Morton, "Toh"
Michael Morton just can't stop. Hot on the heels of Electric Dreams (not to mention two remix collections) comes an entirely new album, apparently made under the auspices of a "January Album Challenge" limiting the time and sources artists could work with (Keef Baker's done an album as well). Named after the "nine symbolic cuts", Nine Syllables seems to be showing off a more hushed and ambient side of Morton's work.

Architect, "Hummingbird (Killed)"
Oddly enough, there's been a flurry of activity related to our favourite song of 2013. First, the standout track from Architect's standout Mine album received an official video a week back, and now Daniel Myer's released this (in-house?) reworking of the tune. This very minimal take puts Emese Arvai-Illes' vocals into the limelight and keeps them there, drawing drama from different vocal filters and effects rather than the swooping jump-ship chords of the original. The somewhat 4AD feel of the original's maybe strengthened here, testifying to Myer's talent for making more from less.

Unitary, "Torching Utopia (Kant Kino remix)"
Okay, before we get into this, notice how the opening bit of this Unitary remix by Norwegian EBMers Kant Kino is basically the riff from "Crazy Train" over the bassline to "Pony"? Weird. Anyways, we've long been suckers for a KK remix, and they add just the right amount of spice to this futurepop styled track from Unitary, a band we'll admit we haven't been keeping up on at all lately. Might just need to check in with 'em, as the EP this is drawn from seems good to scratch our occasional futurepop itch.