We're back from the holidays, having been respectively well-rested in Rome and stuffed with Tofurkey, and are keen to dig into another year of discussion here at I Die: You Die. We're not exactly in the mood to do a whole bunch of New Year's resolutions or mission statement type declarations, as we did plenty of navel-gazing in our year-end coverage and will likely have another of our wishlist type write-ups for the year to come, but we do have plans for the site, both ambitious and incidental, which we're looking forward to talking about in the coming months. For now, we've flagged a bunch of tracks which dropped while we were taking our breather, so let's get to it!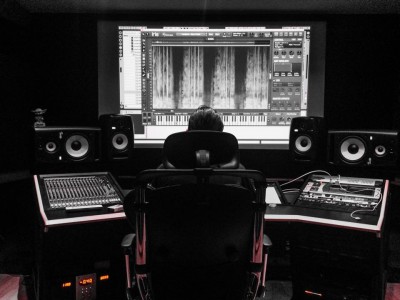 Retrogramme, "Saved (BITES Remix)"
DC act Retrogramme have a pretty open-ended synthpop aesthetic, and are more than happy to work in plenty of neigbouring styles (as discussed when we reviewed "For Our Dearly Departed"). Tapping Xavier Swafford to add some of the rhythmic, oppressive synths he earned his rep with as BITES (before 3 Teeth got started) is a good move, lending plenty of pulse and sway to this piece. Retrogramme's next LP, Feed, will be coming out soon on EKP; we'll keep you posted.

Seeming, "The Flock (D0Wn THe L▲DD3r EDIt By V▲LH▲LL)"
You know whose remix game is underrated? Those ghostly nordic pagans V▲LH▲LL, that's who. We're especially fond of the takes they've done of pop songs by the likes of Lana Del Rey and Madonna, and it just so happens that their post-witch aesthetics work just as well when applied to NY genre-benders Seeming (who you may recall took home our album of the year nod for 2014). This may or may not be related to a remix release for the latter artist, but either way we're happy to have a team-up from two of our fave artists of last year.

Rhombus, "A Moment Today (First Demo)"
A somber and rather stripped-down demo from introspective yet hard partying trad goth crew Rhombus. This personal and reflective take on things certainly isn't new for the Huddersfield group, but on Open The Sky and "Here Be Dragons" that was always shot through with some anthemic jolts. Does this mark a moodier turn for the band, or are we reading too much into one demo?

Cygnets, "Run With Us (Lisa Lougheed cover)"
Okay, bit of a history lesson for all you non-Canucks out there: Lisa Lougheed's seminal Canadian synthpop jam is most well-known to those of us here in the Great White North as the closing theme from The Racoons, an animated television about anthropomorphic wildlife dealing with environmental and ethical issues. Edmonton's Cygnets pay tribute to this wonderful bit of Canadiana with a free cover you can snag via Bandcamp, a nice capper to their two fabulous 2014 albums Sleepwalkers and Isolator. Home-and-Native-land vibes so strong you'll want to read it The Hockey Sweater and call it Gord.

Vandalaze, "Mutoid Spasm"
Bit of mid-80s-industrial-funk from Sacramento's Vandalaze, fresh from their December release Body Plaza. We normally make a point of using Soundcloud and Bandcamp embeds in these posts for a variety of reasons, but this is an occasion we gotta recommend you watch the video; project mastermind Cory You has his clip-editing skills leveled up good and proper to provide the exact right kind of visual accompaniment, an homage to all your finer cyberpunk tropes. Full-screen this one and scare your co-workers real good.

GHXST, "Galaxia"
It's been a while since we checked in with New York's GHXST, but that's all on us. The grinding noise rock genome in their make-up is in full effect here, with a great balance being struck between Shelley X's druggy, almost trepidatious vocals and doomed-out riffs. As always, the gothy touches in GHXST's sound are present more in mood than in concrete sound, but regardless of genre this is still some great dark shit meant to be turned up.