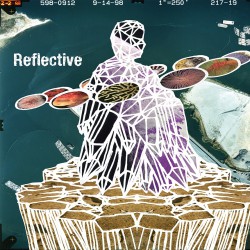 Gnome & Spybey
Reflective
Crime League
The quiet but consistent emergence of the Gnome & Spybey collaboration has been one of post-industrial's best kept secrets this decade. Over the course of three albums, Tony D'Oporto and Mark Spybey have woven psyched-out ambient magic which points to their respective histories while still feeling contemporary. On their second release for Crime League, the duo take things in a slightly moodier direction, though this darker tone makes Reflective's more melodic moments all the brighter, and highlights a solid roster of guests.
The project's appropriately named tertiary record, Three, took the spaced-out atmospheres of its antecedents and focused them into trembling and pure paeans to nature and memory (well, at least in my reading). Initially Reflective feels like a seamless continuation of that sound: opener "There Are Gnomes" begins with simple and melancholy piano and synth gurgles, Spybey arriving later to enumerate a list of paired entities: "There are moles, there are mice, there are / There are hives, there are bees, there are". It's the sort of piece which evokes far more through minimalism and restraint than it ever could with a heavier hand. Yes, the production is lush, but it's never pushed too far, leaving plenty of space for the listener's mind to wander. Far crisper and more forthright is the briskly programmed "Achim". I did a bit of a double-take upon learning that it had been worked on by none other than Assemblage 23's Tom Shear, but on further listenings its icy pings and processional pace do sound right in his zone.
After these openings, Reflective tilts towards the more somber (though not necessarily gloomy) side of ambient and drone composition. "The Ballad of Bernadine Dohrn" reminds me of Spybey's "Caw Gap" from Dead Voices On Air's Piss Frond in execution if not composition, with odd buzzes and whirligigs coming in from a faint distance through miles of cloud, amongst machine churns and choral pads that suggest a dark ambient direction the project has thus far eluded. Longstanding ambient icon Robert Rich's lilting piano skims between layers of glitch and drone on "Troi Gnomnes" and "Atomes" (despite the former's name it's the latter which feels more Satie-like), offering slight relief in otherwise claustrophobic listens. From there on it's just about straight ride through drone territory, with tunes by turns calm, moody, and downright murky.
This feels like a more reigned-in iteration of the collaboration between D'Oporto and Spybey, more connoting the placid moments of Neu or X-TG's Desertshore than the more psyched-out moments of the Willie's Place releases. It's also a bit ironic that an album which features such a wide range of guests (Crime League/Displacer honcho Michael Morton makes an appearance, as do veteran producer Simon Polinski and Dominic Smelt of Amphetamine Virus) feels the closest to Spybey's DVOA work, both new and old. Those specifics aside, this darker cousin to Three cements what those of us who've been tracking this project (and evidently a large number of fellow musicians) know about its potential for rich compositions rife with emotion and insight.