It's a very special time of year for us here at ID:UD HQ. A time when the most fiendish ghouls, spoken of in hushed tones haunt the streets of Vancouver, arrive in our city, bent on mischief and hijinx. No, we're not talking about yr usual Halloween BS: we're talking about Gary fuckin' Numan, the namesake of this here website, showing up to kick Van-city's collective heads off in just over a week. This'll be Bruce's third time seeing Gary, and Alex's second, so it's not carrying with it the emotional import that our last time catching Uncle Gary, but this is still the very definition of the sort of thing that wakes us up early in the mid-afternoon, ready to kick ass and take names. Here's hoping we get to bark out the lyrics which gave this site its name sooner rather than later, but until then check these half dozen brand new tunes.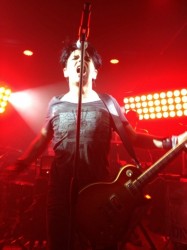 [:SITD:], "Dunkelziffer"
As discussed briefly on the last episode of the podcast, October is bringing new records from two of the biggest post-Futurepop club acts of the EBM scene, Rotersand and [:SITD:]. Debut single (and title track) of the album from the latter group has hit, and it pretty much follows the template of all their best songs: outsized club beats, a big portentous build complete with choir samples and a pretty catchy melody. When reviewing their last album we dubbed their style "widescreen EBM" and that seems appropriate here: everything [:SITD:] do is large, and "Dunkelziffer" is no exception.

Cygnets, "Born In Vain"
We've already posted one number from Cygnets' soon to be released Sleepwalkers, and this tune's about as far in execution and mood as is possible to get while still staying within a general new wave frame. Full of nostalgic, chiming guitars which call mid-period New Order to mind, this is proof positive of the charms which made us instantaneous fans of these Edmontonians.

Chrysalide, "All Demons (Blush Response remix)"
In case you didn't figure it out from Alex's big ol' mash note to the new Chrysalide album Personal Revolution last week, we think pretty highly of a certain trio of French industrialists 'round here. We didn't get the opportunity to check out the super-deluxe book edition that has a whole CD of extra mixes from the likes of Synapscape, Dead When I Found Her, ∆AIMON and this one from NYC's Blush Response. We thoroughly enjoyed Joey Blush's recent album Desire Machines as well, so this is basically a win-win remix scenario as far as getting spins in the HQ scenarios go.

In Death It Ends, "After The Last Frame"
Porl King's unblinking commitment to dour soundscapes and grooves has paid off fantastic dividents via his In Death It Ends project over the past several years. While almost immediately recognizable, IDIE's tunes have shown a steady shift of late, a move which continues on the After The Last Frame EP. As the title track indicates, there's less of a focus on bass guitar and much more emphasis placed on hypnotic loops and atmospherics, perhaps not too far away from Vatican Shadow. Watch this space for a complete review…

Black Nail Cabaret, "Blonde"
We're not so up on the doings of minimal synthpop duo Black Nail Cabaret, except that their vocalist Emese Arvai-Illes was the voice of our favourite album last year, Architect's Mine. Not a big surprise then that the Hungarian-English project is now working with Daniel Myer and Dejan Samardzic's Basic Unit Productions label, with an album called Harry Me Marry Me Bury Me Bite Me on the horizon. Check this tribute to the archetype for blonde bombshells while you marvel at Emese's remarkable voice, by turns sultry and understated, on some of that Alison Moyet steez.

Black Nail Cabaret – Blonde from Black Nail Cabaret on Vimeo.
Menace Ruine, "Soothing But Cruel"
Finally, something a little outside of our usual haunts, but close to so many things we love. Montreal's Menace Ruine and their take on experimental black metal have been a personal favourite of ours for several years, and the cursory listens we've given to Venus Armata indicate it might be their best since 2008's The Die Is Cast, if not their best work period. Darkwave, neo-folk, neo-classical, and sludgy waves of noise (perhaps not dissimilar to some of Chondritic Sound's stuff) combine in a medieval-tinged hybrid of cacophony and harmony. Gorgeous, evocative stuff that's perfect for autumn nights.