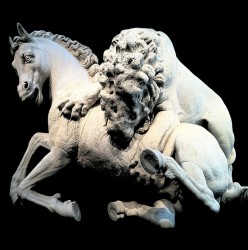 Youth Code
A Place To Stand
Dais Records
For better or for worse, all eyes are on Youth Code right now, and have been for a while. I don't mean to jump into hyperbole right out of the gate, but it's damn hard to sit down to spin A Place To Stand without positioning oneself within the pressure cooker that's been built around Sara Taylor and Ryan George's raw EBM band from LA. For every concert goer or blogger (hey there) won over by their early shows or demos, there were a nearly equal number of skeptics who dismissed Youth Code as being derivative of older acts (though none could seem to agree on which bands those might be) or for not providing sufficient documentation of their scene pedigree. All of this sound and fury seemingly reached its apotheosis with the release of their debut, which conveniently tended to reinforce entrenched positions ("See? I told you they fucking rule." "See? I told you they just sound like Ebb."). The latter camp won't have the same respite in the case of the A Place To Stand EP. Though containing just four fully new tracks, it quickly sights Taylor and George taking large and unmistakable moves forward while simultaneously refining the source of their original appeal: their brutal, unapologetic honesty and passion.
I say all of this to get the back story out of the way. Yes, a broader context has to framed in the case of a band generating the heat which Youth Code has, but it'd be folly for anyone to weigh in on A Place To Stand without addressing the two shifts it portends for Youth Code from here on out. Firstly, while still as clanging and grinding, there's no question that the production on A Place To Stand is far cleaner and more in focus than on earlier tunes. True, a big part of the immediate appeal of YC's demo cassette was its "holy shit, it's dubbed off a four-track over a phone" grit, but from the moment the chorus of opener "Consuming Guilt" slams from EBM bounce into a controlled, mid-tempo staccato blast, almost black metal in its rhythm, it's clear that we're being treated to a more granular document of vitriol, not a high-gloss substitute. I'll hold off on speculating about the role of producer Joshua Eustis of Telafon Tel Aviv (who earned our love for the shimmering melancholy of Immolate Yourself) in the location of this sound, but even A Place To Stand's "softest" moments – the pads which sit underneath "For I Am Cursed"'s echoing stabs – have their roots in the earliest versions of "Keep Falling Apart". Rest assured that this is still very much the product of the Youth Code of 2012: you can just taste the blood much more sharply.
The other development A Place To Stand heralds has to be the emergence of Taylor not just as a more developed vocalist (and in fact sole vocalist) but as a full-fledged frontwoman, capable of completely commanding the listener's attention amidst the firestorm of "Consuming Guilt" and the stuttering "To Burn Your World". Lyrically, things are walking a line which speaks to Taylor's roots in both hardcore and industrial, as in the case of the personal excoriation of "For I Am Cursed", but the last of the new tracks might be the most revealing. Dropping her characteristic rasp, on "A Litany (A Place To Stand)" Taylor recites a manifesto which is both disgusted and utopian in an unflinching voice: "The world we exist in denies us the right to exist happily". This is a break-out move, and thankfully Taylor has plenty to say.
Your attitude towards the remixes of tunes from last year's LP which sit on the EP's flip side will likely be dependent on how closely you've been tracking Youth Code and to what end. Personally, I found them mostly interesting as diagnostic and orienting tools: charting not only the differences between the source material and A Place To Stand, but also of the genres and producers sitting within reach of Youth Code at this point in their career. We have a smothered industrial techno outing from sludge maven Sanford Parker, verses from experimental hip-hop buzz act Clipping, punchy triplets from aggrotech stalwarts God Module, and (my personal favourite) Silent Servant slanting heavily to his electro side. None of these acts exist precisely within the sphere of "old-school" EBM Youth Code are so often tagged with, but their selection speaks volumes as to how Youth Code see themselves fitting (or not fitting) within that world, and the ends to which they see their aesthetic being turned.
Seconds after Youth Code finished their set at Cold Waves this past weekend, one of the other performers (Matt Fanale of Caustic) confidently stated "that oughta shut a lot of people up". As I said earlier, for a brief while it was possible to simply reflect one's own evaluation of the new surge of industrial acts coming from unexpected corners back upon Youth Code, making them a convenient sounding board. The band's current live presentation and the new brand of punishment on display on A Place To Stand should give pause to all but those with the most dogged of axes to grind. Youth Code here stand fully formed, resolutely defiant, and utterly necessary. Dismiss them at your own peril.