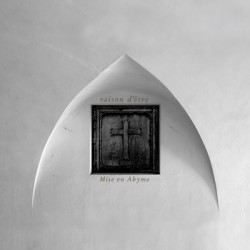 Raison D'être
Mise En Abyme
Transgredient Records/Yantra Atmospheres
With twenty-plus years in the dark ambient game under his belt, it's tough to think of expressions or explorations of the genre which Peter Andersson can't point to in his discography. From his early work which leaned heavily on choral pads and samples, to pure mid-range drone, to the uptick in percussive clatter and feedback on recent live documents, Andersson's been so formative in shaping our understanding of what dark ambient is that I'm hard-pressed to think of a release in the genre that isn't a hop, skip, and a jump away from work that he's already done. While new LP Mise En Abyme doesn't completely reinvent the wheel, it finds Andersson stretching just enough of his range to remind us of how important his work is while still delivering a unified listen.
The first wholly new work from Raison D'être since 2009's The Stains Of The Embodied Sacrifice, Mise En Abyme is comprised of four tracks, all nested in the twelve to sixteen minute range. It's a structure which works well for the project: individual pieces are given time to develop and showcase individual elements at their own pace without fear of repetition or disharmony. The structure of "Abyssos" is among the most minimal and slowly developing of Andersson's work, yet its textures are perhaps his most granular, strings slowly sliding over pads with hints of tremolo, the changes in pitch barely noticeable in the moment. "Infernos" zooms in on the aforementioned clattering loops. While these are interesting, I found that the percussive abrasion eclipsed the slowly buzzing stygian horns in the back of the mix, which perhaps would have been better suited to a different accompaniment. "Katharos" splits the difference between the first two pieces, lightly dusting a seriously spacey set of sustained chords with chimes, percussion, and bass thrums.
Closer and album highlight "Agraphos" paradoxically feels like the most classic Raison D'être track on offer, yet also seems to be pushing the envelope more than any of its companions. The foundation is classic drones and bells, but things are carried along by a pair of voices: one natural, one pitched down, harmonically matching yet also just out of phase with each other. It's a haunting bit of work (which reminded me of both Ulver and Arvo Pärt) which points both to the legacy and strength of Andersson's extant music, but also offers a tantalizing glimpse at how much more he might have to offer us.
The nudges Mise En Abyme's tracks make away from each other (or the Raison D'être catalog as a whole) should be noticeable enough to attentive listeners and die-hards, but subtle enough to keep things organically connected to the album as a whole (or, again, earlier releases). We might not get another fresh slab from Andersson for another five years, but Mise En Abyme has the legs to carry us forward (or downward) for a good while.