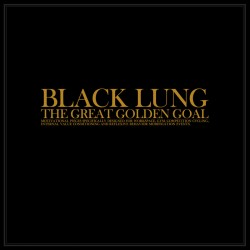 Black Lung
The Great Golden Goal
Ant-Zen
No stranger to the highly conceptual, instrumental project Black Lung has become even more idea-driven with time, dovetailing the evolution of project mastermind Dee Thrussell's main musical outlet Snog into a sardonic electronic-pop act. While the premise of The Great Golden Goal – that the album is corporation-mandated inspirational music to enhance sales and productivity – isn't too far off from the kind of winking conceit that Thrussel has traded in for years, the music itself is surprisingly straightforward, a mixture of cultured electro tropes with plenty of analogue squelch and hooky melodies for good measure.
Fittingly for an album masquerading as inoffensive and peppy, many of the LP's twelve songs move along at a spritely pace with bubbling bass and simple kick snare patterns. Numbers like "Hype & Drive" and "The Business of Selling" play relatively straightforward, establishing simple sonic motifs which are then augmented and replayed in varying synth configurations. It's a formula that works well and says something about Thrussel's skill as a composer: the playful use of instrumentation on "The Cold Call" transforms what starts off as a get-up-and-go motivational anthem into an uncomfortable and tense tune that perfectly matches the high-pressure sales scenario of its title.
In the backhalf of the album matters become far more foreboding, the verve of earlier numbers replaced by less energetic and far more dramatic timbres. "The Great Equalizer" operates as a kind of turning point, its simple chiming lead and minor key pads coming across as far more deliberate than the feigned positivity that preceded it. Never ugly but always hinting at something unpleasant, "Consumption Deluxe" and "The Trickle-Down Effect" harness fluttering arpeggios and warm washes of sound in the service of menacing odes to the profit-driven mentality. By the time the listener reaches the final track "The Brotherhood of Saturn" the sense is one of indoctrination, as a choir solemnly intoning a wordless melody set to orchestral drums, ritual music for some theoretical Six Sigma workshop with satanic overtones.
Thrussell's skill as a writer and arranger shouldn't be revelatory at this point, although I think that Black Lung's capacity to be as expressive and mordant as any Snog number is less celebrated than it should be. The Great Golden Goal is as beholden to knowing the abstract idea behind it as any instrumental concept record, but you can at least draw easy lines between the story it's telling you and the mood and execution of its songs. This is the age of corporate rule, and at least one musical satirist isn't going to let that rich vein of material go untapped, sequere pecuniam.