End to End is our track-by-track take on non-album and compilation releases, in which we try to give thumbnail first impressions of each song and point to particular numbers for cherry-picking via the consumer's online retailer of choice. Today it's a remix LP from the side-project of one of Our Thing's most distinctive and beloved songwriters and producers…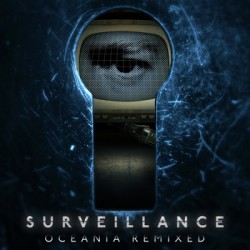 Surveillance
Oceania Remixed
Self-Released
A side-project of Assemblage 23's Tom Shear, Surveillance has shown itself to be an outlet for a more classic blend of the electronic scene music which has always informed his material. The project's debut Oceania was an effective mixture of strengths, bringing Shear's ear for melody and arrangement into the world of muscular bass and heavy percussion. Oceania Remixed is stacked with names from across the spectrum of latter day industrial, all of whom would seem to be prime candidates to rearrange the project's varied tracks. How do the executions of these pairings fare? Let's find out.
"I Was There (Angeltheory remix)"
More of a straight ahead electro-industrial take on the song, omitting some of the odd production touches that gave the original its charm in favour of a more workmanlike bass and synth arrangement. Should mix well in a DJ set, although my feeling is that a remix should never endeavour to be less distinctive than the album version.
"Corridor (Interface Remix)"
One of the sleeper tracks from Oceania is reimagined as a bass-heavy club mover. It's pretty cool to hear the grinding synthline of the track translated into a context more akin to modern EDM, although still with a nice dose of EBM flavour. Solid work from an underrated genre producer.
"Husk (∆AIMON remix)"
The mighty ∆AIMON's remix game has always been tight, especially so when dealing with material already laden with emotion. In this case, the powerful duet from Shear and Mari Kattman proves to be an especially wide canvas for the California duo to lay into, slowing the tempo even more and slathering on the hazy atmospherics that are their bread and butter. Top notch.
"Rise (Aesthetic Perfection remix)"
Daniel Graves' remixes are usually pretty well measured efforts; as with his originals, he has a strong sense of how to carve away the fat and leave only the most integral elements of a song. "Rise" in its original form is a big, inspirational sort of number, so the idea of reducing it to a fat bass loop and drums on the verse and allowing Shear's vocals to really carry the track from chorus to chorus offers both an interesting retake and something that feels wholly new.
"Belief (Rotersand remix)"
A very classic body music mix from Rotersand, as befits the style of the original version (and the name for that matter). As time passes it becomes clearer that despite their association with post-millenial futurepop, Rotersand have a very strong grasp on the tropes that make up trad-EBM, as evidenced by the looping bassline of this mix that varies slightly but never strays or lets the track stop moving forward propulsively. Really excellent.
"Panic (iamdrugs remix)"
A funky electro take courtesy of Alter Der Ruine side-project iamdrugs layers on a healthy layer of rhythmic elements, where even the crackly beeping leads and squared off synth hits feel like drum hits. The feel certainly works well for one of Surveillance's most paranoiac songs, amping up the tension all of which gets released as everything but the drums fades away in the final moments.
"Corridor (mind.in.a.box remix)"
Not totally in line with the grandiose song-oriented productions miab have been favouring in their own productions, this feels like something of a callback to the cyber-industrial of their earliest albums. This does have a dollop of the pitched up vocoder sound that has become one of mind.in.a.box's calling cards, and a very cool breakdown midway through; not spectacular but still quite listenable.
"Homeland Security (iVardensphere remix)"
This is pretty different (at least initially for Scott Fox): a transformation of Shear's tribute to classic 80s electro-industrial into a sparse and slowly building percussive number. Of course those ultra-recognizable iVardensphere rhythms do make an appearance eventually, but by that time the track has already been made by some very conscious and considered use of stereo elements and the song's manipulated hook. An interesting version, not only as an alternate view of the original but for its different perspective on the remixer himself.
"Husk (Velvet Acid Christ remix)"
Velvet Acid Christ has more than a few memorable industrial ballads in their catalogue, and as such it makes sense that Bryan Erickson take on this particular track. While very VAC-like throughout, I found that the song felt somewhat flattened out via the changes in instrumentation, with Kattman and Shear's vocal performances becoming lost in the mix behind the spooky pads and heavy drums.
"Panic (Rough remix by Blitzmaschine)"
More bounce to the ounce on this straight neo-oldschool body music mix from Germany's Blitzmaschine. Like a lot of the best remixes on this disc it really latches onto the classic EBM flourishes of the Surveillance material with bass and drums kept at a boiling point for some four and half minutes. Decent meat and potatoes from an act who know where their strengths lie and keep firmly in their lane when delivering them unto someone else's song.
"Rise (Parralox remix)"
A pretty ballsy move from Aussie electropoppers Parallox, who expand "Rise" into a massive ten minute synthpop jammer. By the final third breakbeats and an extended bridge appear and the song has begun to take on the feel of a 12″ mix from dance music's golden era, ready for any DJ to drop in and out at the time that best suits them. Certainly one of the freshest remixes and quite probably the best one on the whole release for a certain segment of DJs and clubgoers.
"I Was There (No Show Rmx by Microfilm)"
Pleasingly minimal at the outset, before unfolding into a complex mixture of rubbery bass and clicky percussion. An instrumental of this version might make any number of contempo techno compilations, and in the context of the scene-heavy styles represented on this album the effect serves as a nice capper, an indication that Shear's material isn't solely appealing to those already immersed in Our Thing's waters.
The Takeaway: As murderous a line-up of remixers as you could ask for. I'd happily recommend a complete purchase if only because I appreciate the high quality of these mixes across the board. So many of these sorts of things look good on paper but are hampered by phoned-in efforts, so it's good to hear a remix LP where everyone seems like they're bringing something special to the table beyond just their name recognition. Hold a gun to my head for only a couple picks and I might have to choose Parralox, Rotersand and ∆AIMON, but this is worth the ten sheckles from beginning to end, believe that.