Welp, we're in the home stretch to Aftermath. We'll be doing a half-week's business here at the HQ, posting a podcast on Wednesday, then flying out east for four days of madnesss. It's been a bucketload of work and stress helping get this thing together at the eleventh hour, but the enthusiasm from the other heads collaborating on it, the bands, and fans the world over have always kept the goal front and center in our minds, and we're now just two sleeps away from seeing it all come together. That doesn't mean we've been sleeping on new cuts: get your fix here, head to Toronto, and we'll all meet up here next week just in time to start getting pumped for Terminus.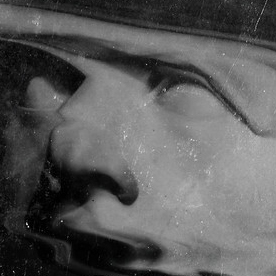 3 Teeth, "Pearls 2 Swine (Caustic Remix)"
The much-anticipated LP from 3 Teeth is almost upon us, and while we've still only heard three or four original tracks from it, we've completely lost track of the torrent of remixes which have been issuing from the mysterious outfit's pleasuredome in LA. We're pretty sure that they'll all be collected on that tooth-shaped USB drive, but word is that that's sold out, so grab the mixes while you can. DL slots are already running out on this "Pigface does boom-bap" style rework from our man in Madion, Matt Fanale.

Liebknecht, "Fuck Off V1"
Alongside 3 Teeth, another project which has been cultivating interest through one-off streams and DLs over the past year and change is Daniel Myer's Liebknecht. He's started more side-projects than you've had hot meals, and so slowly introducing us to the sound and ethos of this new incarnation through demos, remixes and the like has helped him to frame Liebknecht's distinctions from, say, Architect, well. A more pulsing side of the atmospheric, woozy techno/industrial hybrid is demoed here.

Alter Der Ruine, "Tiny Wars and Quiet Storms"
We would hope that it would be understood by the time the album drops, but just in case you didn't know: if the only thing you know about Alter Der Ruine is "Relax & Ride It", you're gonna be pretty blown away by I Will Remember It All Differently. Alter Der Ruine have been steadily pushing in this direction since their break-up and reformation a couple years back and the plateau they've reached for songwriting and production is astonishing. Listen to this haunting electro track, and be sure to pre-order the record while you're at it, it's an End of Year contender.

Front Line Assembly, "Heartquake (Atiq & EnK remix)"
In case you didn't read Alex's breathless review of the new FLA remix disk, allow us to reinforce here just how damn good it is. In line with the theme of remix producers pulling out and expanding some of the themes of the source material, this intriguing Atiq & EnK remix that didn't make the record plays with some of the deep, swaying bass and scattery percussion of "Heartquake" to good effect. It's a free download from Soundcloud, so you'll wanna grab it to add to your Echoes listening experience.

A.E.C., "Cliche"
Finally, a little something from Tyler Newman (Battery Cage, Informatik) and his solo project AEC. You may recall we enjoyed the wide-ranging flavour of his soundtrack for Zonekiller, and while the vintage cyberpunk of that is represented on sex.drug.sequence we're getting a very mid-late 90's feel off the record, that specific time-period between the height of dark electro and the rise of futurepop. Definite shades of some of Tyler's more well-known projects, give it a listen if you want something new but with some classic sounds going on.