Well amigos, this is it, the final five of our Best of 2013 coverage! It's been quite a voyage to get here, and as always we find ourselves exhausted and relieved to have arrived. It goes without saying that any album that makes our lists is one we endorse you purchasing, but especially in these days of uncertainty, we hope you'll make the effort to pick up one or more of these records and support the great music that Our Thing has been graced with this calendar year. We won't waste too much more of your time on this side of the veil; here's the links to 25-16 and 15-6, read on to discover what LPs we picked for top honours and we'll check in at the bottom of the post with some final thoughts.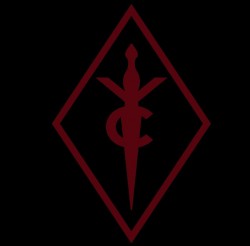 5. Youth Code
self-titled
[Dais Records]
We could waste a couple thousand words talking about what Youth Code's success "means" (and did!), but at some point the rubber has to hit the road and the record has to speak for itself. What Sara Taylor and Ryan William George delivered was a half hour of EBM and electro-industrial with all of the piss and vinegar that drew us to their demo tape, but also showed more of a willingness to indulge in fucking about with gear for its own sake. More sample-happy and rhythmically varied than we might have expected, Youth Code worked in a heap of subtle touches while still keeping the aggression right out front (like the emerging distinctions in Sara and Ryan's respective vocal styles). Thumping, dystopic, toxic, and necessary, this album cements LA's burgeoning rep as the new creative center of industrial music. A record engineer friend once said of Steely Dan's Gaucho that "you can hear the air pollution in every note". We'd say the same for Youth Code's debut, and couldn't be happier about that.
Read our full review.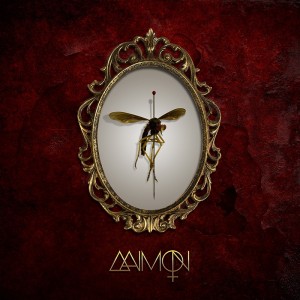 4. ∆AIMON
self-titled
[Artoffact]
The year 2013 changed how we listened to and enjoyed the work of ∆AIMON, a seachange sealed by the release of their self-titled full-length album. The transition from making EPs to an LP was only a small part of it, where the incredibly FLATLINER relied on mystery and obfuscation, Nancy and Brant Showers emerged into the light this calendar year, producing a record that feels more intrinsically rooted in their lives and personalities than anything they've done before. It's not that the subtle textural shifts, the misty soundscapes and carefully plotted arrangements – in short, the things we love about ∆AIMON – have changed significantly, more that the husband and wife team have created a different context for understanding their work. The shadow of the enigmatic and the esoteric is still at play on these songs, but rather than positioning that sense of the unknown between themselves and their audience, ∆AIMON are standing facing it on the side of the listener. For the first time ∆AIMON have projected the intangible energy that flows between them outwards, and by doing so have created a wonderfully complete album, replete with character and vulnerability. Read our behind the scenes piece on ∆AIMON.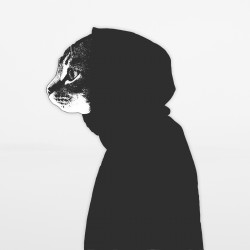 3. Mr.Kitty
LIFE
[Engraved Ritual/self-released]
We don't want to patronize Forrest Carney by attributing too much of Life's appeal to his youth, but it's difficult to listen to this record's paeans to the first mad rushes of love ("I won't cry now cause I'm in Heaven with you / I can die now cause I'm in Heaven with you") without thinking of pastel teen dramas and similar heart-on-sleeve records (M83's Saturdays = Youth comes to mind). Capitalizing on the promise of his first releases with a lengthy suite of songs which each stand alone despite stemming from a shared synthpop toolkit, Carney knocks feelbombs out of the park one after the other ("Scars", "London"). It's not all Trapper Keepers and make-outs: the nightmarish anxieties which were regular fare on earlier Mr.Kitty releases still crop up ("Sacrifice"), but it's when he's able to blend those themes with super-sweet melodies ("Insects", "Labyrinth") that you realise how preternaturally talented a songwriter Carney is. Incredibly easy to listen to and full of endearing drama of the black-on-the-outside-cuz-that's-how-we-feel-on-the-inside variety, it's Mr.Kitty's LIFE but in some way or another we all feel like we've lived it. Read our full review.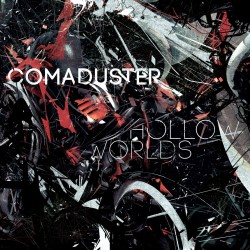 2. Comaduster
Hollow Worlds
[Tympanik]
To clarify, we were predisposed to like the Tympanik debut from Réal Cardinal's Comaduster. After all, Réal has been a friend to the site since basically our inception, and we were privy to the latter stages of Hollow Worlds' development. That the record could come out and still astonish us as much as it did says something, especially since our surprise and delight seems to be mirrored by most everyone who has heard it, whether they were anticipating it or not. Despite drawing from traditions ranging from IDM, shoegaze, bass music and industrial, there's never really been a record like it. Bordered by those genres on all sides, the landscape of the album remains distinct and unique, the result of micro-production that is succinct and articulate. Managing that feat is impressive, but doing it in such a way that the technical specifics seem less important than the songs is amazing. If there's a secret to that accomplishment it's in how human Cardinal's vocals come across: singing, screaming, processed, and naked. How you make an album this carefully constructed seem also so fluid and seemingly effortless is anybody's guess, but with his big coming out having been so widely embraced, Cardinal can rest assured that we aren't the only ones scratching our heads, dumbfounded. Read our full review.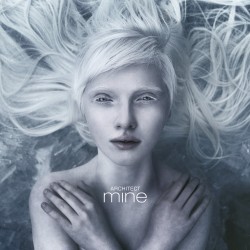 1. Architect
Mine
[Hymen/Artoffact]
We can't lie: we had Mine flagged as a likely album of the year from the first time we heard it, and its inclusion here likely comes as no surprise to friends to whom we've been fervently evangelizing. A lot of forces were in play heading into the album's release: our perennial Daniel Myer fanboyism, natch, but also the fascinating direction the Architect project seemed to be heading with Consume, Adapt, Create. Mine certainly continued that album's trend of shifting Architect away from the predominantly bass music orientation Myer had given it previously, but it also presented us with an entirely new aesthetic, unlike anything Myer had previously lent his hand to. It's also, unequivocally, the best solo record he's ever done.
To describe the sound of Mine is to draw from the listener's own experience and lexicon: we hear the sounds of technoid and IDM that come with the Hymen Records tag, although someone from the other end of the pool might equally describe it as trip-hop, ambient, even 'electronica' if that's the term you associate with chilled out synthetic instrumentals and soulful female vocals. That's pretty key: not unlike many of the records on this list, Myer's success here can be attributed to the humanity he injects into a digital production environment. His vocal proxy Emese Arvai-Illes is as much an instrument as his DAW and synths in that regard; while she delivers songs like "Closer" and "Immaterial" with smokey confidence, Myer also finds ways to impart her already remarkable voice with a kind of unearthly beauty on the jaw-dropping "Hummingbird". That he elects to avoid using his own voice (vocals are also provided by Réal from Comaduster on the closing version of "Altitude"), so familiar from the much loved Haujobb catalogue makes a strange kind of sense; Architect has always been an outlet for him to play both instrumental maestro and orchestra, and adding vocals to the mix needn't erode that distinction at all.
With all of those elements marshalled, Mine became a beckoning, inescapable listen for us this year. We'd toss it on during commutes, while reading or gaming, and find ourselves caught in its web, noticing hidden gracenotes and production tics while still being amazed by its cohesion. Encapsulating a huge amount of the raw potential for exploration still possible within this type of electronic music while transcending the limits of genre, Mine is nothing short of a wonder. There's been no shortage of music in Myer's catalogue that makes the case for him as an auteur, but it was in 2013 that he fully moved out from the shadow of "scene" to make a definitive creative statement. Mine stands apart from anything Daniel Myer has ever done before, it's our album of the year and deservedly so. Read our full review.

And so, another year draws to a close. The Top 5 post has traditionally been our final entry before taking our holiday sabbatical, but this year we'll be popping back up on Monday with a year-end episode of We Have a Technical (our official podcast if you didn't know) to kick the holidays off all free and easy. Check in for that, and if we don't see you, have a cool couple'a weeks and we'll be back on January the 2nd to start another year of reviews, interviews, and all the other incessant blathering you've likely come to expect from us. It's been a slice, friends!