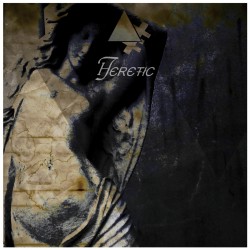 M‡яc▲ll▲
HЄRЄŦłC
Phantasma Disques
Records like HЄRЄŦłC are a good indication that witch house is pretty much dead, in that they represent the signifiers of the genre realized in ways that are far more nuanced and interesting than folks are generally willing to credit to bands that use them. The cool thing about M‡яc▲ll▲ is that aside from the unicode, their sound has developed to a point where it'd be hard to even link them back to the WH label without squinting a bit: their latest LP could just as easily have hailed from some of the darker corners of synthwave, post-industrial, or electro.
Now it'd be foolish to say that there are no traces of the aesthetics we all associate with witch house. There's still some dusty reverb texture and slow plodding beats present on tracks like "Magđalєnє" and "Viєdä", although both are equally built to accomadate fluttery, Carpenter-esque synthlines straight from the soundtrack end of the nu-electro boom. "Purgє of Ғirє" does the 808-on-syrup thing, but it's the use of a very uncharacteristic orchestral sample, positioned ever so slightly off-kilter that really makes track pop, subverting the standard hip hop plundering that plagued so many aesthetically similar albums in the 2009-2011 period.
The rapidly evolving style that M‡яc▲ll▲ has been plying since they first teamed with V▲LH▲LL in 2012 (a team-up that has yielded two excellent splits) isn't easy to pin down, although I'd say it's a fairly natural growth out of the lo-fi sounds of their 2011 debut Season of the Witch. Even when indulging in some handy sonic obfuscation on opener "Pєrsєcuŧioŋ", there's a pleasing clarity to how these songs are assembled. It's as though the broader elements in the palette of the album have been applied carefully instead of as a means to hide some shortcoming as a producer. M‡яc▲ll▲ makes choices that suggest the project has a grander goal in mind, as evidenced by the cold clarity of the classic drum machine and synth sounds on "Єighŧ-Єigħt" and the articulate and nimble way the howls and guitar samples on "Ŧhє Wølvєs" interact with the pad and piano sounds placed in front of them.
None of this happens by guesswork, and making that kind of vision come across when the sound you're working with is so fluid and mysterious is notable. HЄRЄŦłC is good, and what's more, it's an interesting example of how traceable shifts in micro-genres can be tracked in individual producers. This isn't the same band I first heard nineteen months ago, and I have no doubt they won't be the same band when I hear whatever they put out next: M‡яc▲ll▲ is growing, and changing into a different (and possibly better) M‡яc▲ll▲ all the time.