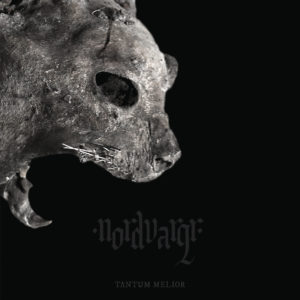 Nordvargr
Tantum Melior
Cyclic Law
The promo copy describes last year's Metempsychosis as Nordvargr's "most song based recordings ever". While we noted at the time the pronounced role that bass guitar and grooves played in that record, we'd never have suspected just how cleanly delineated its individual compositions could be rendered thanks to the classic remix/rework treatment. Across eight outsourced versions (and one in-house Mz.412 version), Henrik Nordvargr Björkk's take on astral projection and eternal return proves surprisingly malleable and amenable to taking on sounds from far further afield than his native death industrial climes. Some of the versions only need a slight addition or rejigging to take on a new dimension – Ordo Rosarius Equilibrio finds middle ground between the two projects with a smoother vocal from Tomas Pettersson and some of ORE's martial ambiance on "Sweet Death Triumphant", while Kristoffer Oustad of V:28 sends the same track trucking off into cosmic black metal terrain. Some, like Spetsnaz's take on "Salve Tergamon" amount to wholly new cover versions (akin to the Trepaneringsritualen iteration of that track we discussed earlier this week), and damned if it doesn't end up sounding like a solid homage to Nordvargr's pioneering EBM work with Pouppée Fabrikk. If nothing else, Tantom Melior speaks to the connections and legacy Nordvargr's carved out well outside of death industrial, and there's something poetic about friends and collaborators bringing some of those other interests to bear on his core work.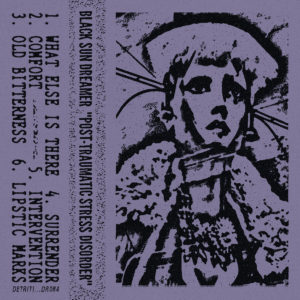 Black Sun Dreamer
Post Traumatic Stress Disorder
Detriti Records
Retro-minded European synth act Black Sun Dreamer occupy that special intersection of 80s electronic genres in which acts like Mild Peril and Klack have made their home. Like those bands, there's a strong element of EBM in what BSD do on Post Traumatic Stress Disorder, but it's shot through with quirky new beat melodies and classic synth soundtrack styles. It's a potent brew to be sure, and on songs like opener "What Else Is There" its strength is apparent; there's a genuine satisfaction to how the thudding kick and octave bassline are buttressed by big filter sweeps, and how the chiming melody slowly reveals more of itself as the track speeds along. They're also well aware of how to modulate their melange for different effects: the club appeal of Star Trek: The Next Generation-sampling "Intervention" comes from how a strict tightening of the rhythm programming, while the lovely "Old Bitterness" loosens it up, adding a layer of minor key guitar that recollects Low-Life era New Order. It's all well-executed, and thought through, rendering its retro aesthetics into substantial songs with body and energy.