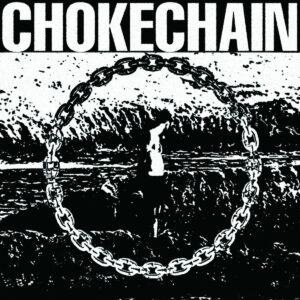 Choke Chain
The E.P.s of C.C.
Phage Tapes
Mark Trueman has established a definable aesthetic for his EBM project Choke Chain in relatively short order; drawing from his own background in hardcore punk and from classic Zoth Ommog dark electro, the Wisconsin-based artist has garnered attention for his DIY approach to production and his intense live performances. As the title suggests, The E.P.s of C.C. collects all of his 2020 and 2021 EPs, along with some compilation appearances, providing an overview of the project's history and some insight into Choke Chain's rapid and continuing evolution.
Even for those familiar with the material collected on the substantial 18-track release, there's some interesting contrasts to be found. The specific, hard-edged sound of the tracks that introduced Choke Chain to the world on Chain Tactics haven't lost their impact, but when put next to the follow-up Endless Death from roughly a year later you can detect new and even subtle shades of influence making their way into the project's sound. Compare "Grave" to "Fear" for example: the rough-hewn EBM with syncopated vocal samples and shrieked vocals of the former get over through direct forcefulness, where the latter channels the anxiety and livewire energy of Trueman's live persona via tightly programmed synthwork, colouring aggression with dread and frustration.
If those distinctions don't seem especially apparent, then check the way Trueman refines his approach from his early dark electro experiments on "Struggle" and ultra-dense grooves on "Trust Fall" to his later productions like "First Strike" and "Nightfall". The earlier tracks don't suffer by comparison, but hearing them in rough chronological order gives you a better view of Choke Chain's forward momentum. It's a case of refinement rather than addition – the elements that have defined the project thus far have never changed, but become clearer and more graspable with each release. A later song like "Falling Down" feels potent not because it's laden with excessive programming, but because its structure and dynamics are calibrated more finely in relation to one another, with melodic pads, rhythm programming and vocals all working to accent and elevate one another.
On the topic of Choke Chain's vocals, Trueman's delivery has remained fairly consistent, convulsively yelping and chewing his way through his tracks. It's one of the most immediately recognizable aspects of the project's sound, and while it may not click immediately on record, it's also an aspect of the project that reflects the unlikely theatricality of Choke Chain's live performances. It's raw no doubt, but the immediacy and wounded charisma that Trueman projects on stage comes across through these recordings undiluted. Intrinsic to the songs showcased here, they're a unique dimension and throughline in the project's writhing, agitated march further into darker territory.