Danica Swanson is a longtime friend and supporter of I Die: You Die, and we've been after her to write a piece for us since we started the site back in 2011. As one of North America's leading fans and experts on Dark Ambient music, we thought it would be cool to have her write up a list of 12 underrated albums from the mysterious and impenetrable genre for initiates and neophytes alike. As expected, she put on a clinic.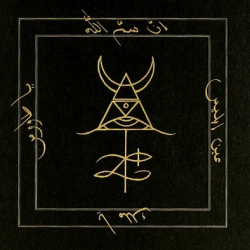 Often dismissed by the uninitiated as little more than background music, dark ambient serves as a soundtrack for the inward eyes among die-hard fans of the genre. Dark ambient is music that rewards close attention and detail-oriented solo listening, delving beneath the surface of consciousness to illuminate the listener's inner world. While classic albums such as Lustmord's Heresy and Cold Meat Industry favourite raison d'être's Prospectus I are well-known and respected, there are quite a few lesser-known releases in the genre that are equally worthy, and richly deserve a higher profile. Here you'll find twelve underrated dark ambient picks from the past ten years, with links to their web presences where you can find these hidden gems and follow the artists' work.
Skadi, Eliwagar
Released on the German label Art Konkret, Eliwagar is the only official release of the enigmatic Alex Leßwing. This project, whose namesake from Northern mythology is the goddess of winter and the primal hunt, incorporates a sophisticated blend of choral voices, bells, and rhythmic elements. Translating the terrain of bone-deep sorrow and inner turbulence into something darkly elemental and melodious, Eliwagar delivers eight powerfully emotive tracks of sublime beauty and artistry.
Fans of dark ambient virtuoso Ulf Söderberg will find plenty to like here – some of the percussive elements and structures in "The Awakening" and "Terra Innocentia" are reminiscent of classics like Sephiroth's "Wolftribes," yet with a uniqueness all their own. "Memento Mori" imparts a more glacial and reflective mood, and the aptly named "Eliwagar" is equally cold, evoking visions of the icy rivers of the Nordic underworld.
Rumour has it that Leßwing's early, unreleased Skadi albums may eventually see the light of day – as well as the dark of night, of course – and there is even some talk of a release of material from his other active project, Psychogram. In the meantime, Eliwagar will no doubt keep his fans splendid company on the long winter nights as we await his new material.
A few copies of the original 2006 CD release are still available; check Lichterklang (DE), Tesco (DE), or Equilibrium (PT).
Bonus: An I Die: You Die exclusive download of a previously unreleased Skadi track, "Respectus"!
Hyios, Consuetudines
Shrouded in mystery – no information is available about the musicians behind this project, aside from the mention of Leipzig, Germany, home of respected acts such as Herbst9 and Inade – this album is intense and otherworldly, yet every bit as earthy and terrestrial as if it had been forged in a series of field recordings in labyrinthine underground passageways. Cave-dwellers, mystics, this one's got your name written all over it.
Released on Malignant Records in 2009, this vivid collection of cold ritual drones dredges up visions of stalactite-draped sanctuaries and dark hidden caverns. Its sonic richness is matched only by its lavish packaging: the artwork is every bit as compelling as the music, feeding the mythic imagination with runic lettering and oblique references to themes of ancient history, heritage, and subterranean cults. Definitely one of the most chthonic and primordial of dark ritual ambient albums, hinting at an embodied spiritual potential that lies dormant and untapped in the modern post-industrial world. Bonus points for originality: I've heard nothing else in the genre that I'd say is truly comparable to this.
The only other music released from Hyios is "Augur," an equally evocative track contributed to the Ritus Terra Prolis compilation from Kalpamantra in 2010. No word on new material from Hyios, but with an album this outstanding, I can't help but hold out hope.
Consuetudines is available exclusively on CD through Malignant Records (US).
Sinke Dûs, Akrasia
How does one recommend music this densely packed with torrential emotion without resorting to a string of superlatives? Perfectly layered, disturbing yet tranquil, Marcus Lönebrink's soulful and nuanced 2007 album Akrasia on the highly respected Canadian label Cyclic Law – his only full-length release to date – delivers a richness and vulnerability that eludes lesser artists in the genre. Lönebrink is a master at using complex soundscapes to reveal the stark but undeniable beauty and pathos that lurks within the folds of the cold, bleak, and solemn.
There's not a track on this album that won't be worth your rapt attention. "Acedia" and "The Abyss," in particular, are wistful juxtapositions of deep despair with achingly intense swells of the kind of beauty and awe that reveals itself only in the wake of great loss.
So evocative is this album that even after countless listens, it still sends chills up my spine. Without hesitation I'd rank this among the best of the dark ambient genre, right up there with the classics. "Criminally underrated" is a phrase that should be reserved for albums like this.
No word from Lönebrink on a new album yet, but two other excellent Sinke Dûs tracks, "Dawnchasm" and "Malaise," can be found on compilations available via Cyclic Law and Kalpamantra.
Gydja, Umbilicus Maris
Gydja – the old Norse word for priestess – is a project of Abby Helasdottir, a New Zealand-based dark drone ambient artist who has collaborated with Svartsinn and Aidan Baker.
Umbilicus Maris ("navel of the sea"), her 2007 release, employs organic-sounding field recordings to fine effect, producing mesmerising dark atmospheres of sonic ebb and flow. As with her earlier self-released album, Rivers, acquatic themes abound. Dense soundscapes billow forth, offering a paean to the elemental spirits and mysterious creatures of the deep earth and waters.
Resonant bells and flutes meander through "Beyond the Earth's Edge," a subdued piece that echoes the emotional contours of solitude. Awash with serene beauty, "Cold Water Flowing Forth" is soaked in swirling reverb, drifting and spacious, while "Snakestone" slithers hypnotically through liminal spaces. Listen, and immerse yourself.
Gentle and dreamlike, reaching into the unknown as it descends into murky sonic waters and mythic worlds, Umbilicus Maris falls slightly to the lighter and less tumultuous side of the dark ambient scale, and might appeal to fans of classic ambient acts such as Brian Eno, Steve Roach, or Robert Rich.
This long sold out piece of finely crafted dark drone ambient – "dark ambient for dark goddesses," originally released on the Belgian Mystery Sea label – is now available for download on bandcamp. No word yet on a new album, but "Nubem de Obscura" and "Electron Plasma Oscillations," two of her more recent tracks, can be found on compilations available for free download from Kalpamantra.
Konau, Speech From the Shadows
A "hybrid" creature formed by Gabriele Panci of New Risen Throne and Andrea Freschi of Subinterior, Italy's Konau bring their finely honed blend of melancholy and disquiet to this remarkable collaboration. Released in 2006 on Italian indie label Eibon Records, Speech From the Shadows covers foreboding and introspective ground all at once.
"Speech From the Shadows" and "Sadness Embrace" are beautifully executed tracks, stirring sorrowful reflections and solemn, sepia-tinted memories. You can almost feel the chill in your bones as the stormy opening of "Contemplation" gives way to a churning dissonance, and the diabolical laughter in the eerie, Lustmord-esque "Crawling Darkness" paints a sonic tapestry of seething dread.
If you like your dark ambient mournful, contemplative, and slightly chilling, Konau will make your black heart rejoice. Highly recommended.
A new Konau track, "Void Spreading Veins," was released on a recent Kalpamantra compilation. Work is under way on a new Konau album; no release date yet.
Mulm, The End of Greatness
Initiated by Norway's Ketil Søraker (also of Taphephobia), who enlisted the considerable talents of Hærleif Langås of Northaunt and Erik and Erlend of Avsky, Mulm is a collaborative effort – and a compelling one at that. The release features seven irresistible atmospheric tracks, fusing minimalism with unsettling bleakness.
The title borrows a term from astronomy, referring to the scale of the observable universe; beyond the End of Greatness – the limit or border of the observable universe according to known principles – is the appearance of randomness.
The monochromatic cover art on the packaging pairs perfectly with the gloomy, droning soundscapes. Both are delivered masterfully, with the exquisitely nuanced refinement fans have come to expect from Cyclic Law releases.
If introducing neophytes to dark ambient happens to be your thing (it's definitely one of mine), The End of Greatness is an excellent place to begin, as the music is much more down-to-earth and accessible than standard genre conventions of dark ambient might suggest. There's a timeless quality here, too: I predict that the album will still sound just as fresh in 15 or 20 years, and I'll still be enjoying its company as if it were a beloved old friend – the same way I do with such dark ambient classics as Ulf Söderberg's Nattljus or Apoptose's glacial ambient masterpiece Nordland.
This 2012 Cyclic Law release should put Mulm on the radar of dark ambient fans everywhere, and is recommended even for those with only a passing interest in the genre. An additional Mulm track, "Deluge," can be found on the free Samhainwork I compilation from Heathen Harvest. A new album is in the works.
Lapis Niger, At the Throne of Melek Taus
Swedish author and musician Tommie Eriksson, also of occult doom metal band Saturnalia Temple, released a single album of dark ritual ambient on French label Athanor in 2008. Named in honour of the black diamond of Draconian Alchemy, "At the Throne of Melek Taus" is a crossing of thresholds – a gnostic-inspired, serpentine work of bewitching appeal.
The haunting "Inside the Black Pearl" quickly became my favourite of the eight outstanding tracks – it's refined, ethereal, reverential. Steeped in the esoteric, exuding an irresistible aura of mysticism, Lapis Niger peers behind the black veil and delivers understated but powerful luminescence in the guise of a dark mask. Highly recommended. Available via French label Athanor.
Cities Last Broadcast, The Cancelled Earth
Pär Boström's acclaimed project Kammarheit is among the most highly respected names in dark ambient, and for excellent reason. To my bafflement, however, audiences have been slower to pick up on the album released by Boström's equally outsanding project, Cities Last Broadcast. Nearly a decade was invested in the making of this 2009 album, including copious field recordings made in bridges, tunnels, and train stations. The artwork for the album was done by the talented Boström himself, and unsurprisingly, it complements the music perfectly.
Whispers of buildings infuse every moment; with terrific precision and dark grandeur, this album thematically explores architectural territory and desolation, building into a crescendo that reaches its peak in the last and most grandiose track, "Architectôn."
Given that The Cancelled Earth has been named by many a dark ambient fan as THE album that got them hooked on dark ambient, it's a wonder this hidden gem is still so overlooked.
Rumour has it that, with luck, a new Cities Last Broadcast album will be in the works in the not-too-distant future. Even if it takes another decade for Boström to complete the album, though, there's no question that it will be worth every minute of the wait. The Cancelled Earth is available via Cyclic Law.
Phragments, Earth Shall Not Cover Their Blood
If you prefer your dark ambient laden with orchestral elements, a bleak cinematic feel, and a generous infusion of masterful martial industrial, the Slovakian duo Phragments should be right up your alley. From the ominous overtones and raw distorted vocals of "Over Deadlands" to the deep haunting drones of "As Hope Turns to Ashes" and the dramatic soundscapes of "The Return," Phragments delivers grandiosity and grit alike on this 2008 sonic journey, their fifth album.
Featuring Matej Gyarfas (music) and Sonic(k) (videos), Phragments deliver a visceral mix of richly detailed, dynamic force – a stellar work that deserves a higher profile. Their most recent album, New Kings and New Queens, is equally impressive, albeit less bombastic.
Innfallen, Three Days of Darkness
Those unfamiliar with Innfallen, a project of Doyle Finley (of Invercauld) and Kevin Scala, are missing out on one of the strongest acts in the genre. This US-based duo delivered quite an impressive debut with 2009's creepy Three Days of Darkness. Nightmarish and haunting, yet without ever wallowing in the grotesque or slipping into dystopian cliché territory, the album treads in ghostly and morbid realms, and leaves in its wake a distinct taste for more.
"Epilogue (Scattered Remains)" is the most menacing and outstanding track, weaving a tale of dread and destruction in slow motion; I've often recommended it for Halloween haunted houses.
While the full album is difficult to track down, two of the tracks ("Day Two" and "Day Three") are available on their Soundcloud page, along with two tracks from their new album, Weathered Roads to a Burning Bridge. The latter is available exclusively through Malignant Records, in an edition of 50 copies; it will also be available for download on bandcamp soon.
Allseits, Hel
Nina Kernicke, a veritable powerhouse of the German dark drone ambient scene who has collaborated with Montreal duo AUN and is also a live member of the legendary Troum, followed her early experimental/post-rock solo albums as All Sides with a release under her other alias, Allseits. This 2009 release from Cyclic Law features six tracks packed with elemental drones and bone-chilling reverb.
Hel is a tribute to some of the darker and lesser-known figures in Northern mythology. From the ominous opening notes and haunting wails of "Gjöll," referring to a river that leads to the gates to Hel in the foggy realm of Niflheim, to the primal dark realm of "Mordgud," the guardian of the bridge to Helheim, each track is crafted to pure perfection.
Drenched in the elemental, saturated with heavy textures and deep resonant tones, Allseits takes us on an allegorical journey through the netherworlds of the North. A phenomenal album – not to be missed!
New Risen Throne/Cruel Harvest, Shadows Over Humanity
While most dark ambient fans would readily assure you that it's difficult to go wrong with any of New Risen Throne's albums, 2005's Shadows Over Humanity – a split between New Risen Throne and Cruel Harvest, a project by Todd Paulson of God Is Myth records, the label that released this album and 2004's Chants for a Cold and Dying Sun – is perhaps the most underrated of them all. Deep, cavernous, chthonic ritual doom ambient is Stielh's (a.k.a. Gabriele Panci) signature sound, and this album does not disappoint.
Hypnotic echoed voices, a descent into the abyss, a soundtrack for funereal rites or an unsettling occult journey through forlorn and desolate landscapes: this is familiar territory for New Risen Throne. "At the Shadow of the Gates" is the standout track for me, inspiring many an evening of slow, slinky dark fusion dance choreography. There's just something about that primal rhythm…
Cruel Harvest's "Black Aura Funeral March" opens with melancholy piano notes, melting into litanies of prolonged mourning as it ripens. Like the unfolding roll of an enveloping fog, each track engulfs the listener in a slow progression of ominous drones.
While the New Risen Throne tracks were initially the stronger draw for me, the Cruel Harvest tracks have really grown on me with repeated listens. The album is hard to find, but well worth the time you may spend scouring eBay or Discogs for a copy.
Honorable Mention: Dead Factory, [Industreality]
As an EP with just three tracks, and a hard-to-find one at that, this didn't quite make the list, but it richly deserves attention nonetheless. Maciej Mutwil, from Poland, delivers a brilliant, gritty, unrelenting release based on themes of heavy industry. The aptly named [Industreality] will surely appeal to those with a taste for minimalism and strong industrial influence in their dark ambient.
Limited edition 2006 release of 99 copies on Prodistri, a sub-label of War Office Propaganda.
—
(Special thanks to Jason Lillie for research assistance, and to Steven Williams of Kalpamantra for his tireless work in making so much great dark ambient music available for free download.)