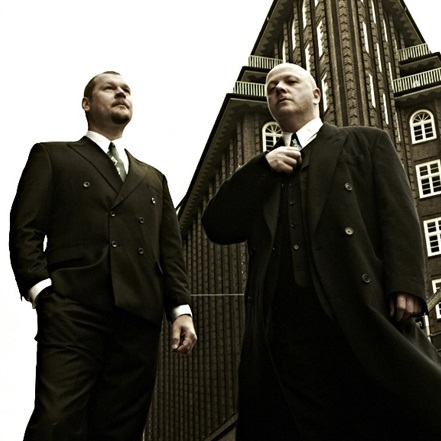 We've got a doozy of a ninth podcast for you, as we're joined by Ned Raggett for a conversation about VNV Nation. Ned's a rock critic we've been reading for well over a decade, who's become a big fan of VNV in recent years and (more importantly) has been doing some serious writing on Ronan and Mark's work. The senior staff have intensely personal but mixed relationships with VNV, and we were keen to have a conversation with Ned about what drew him to the band. There's also some chatter about the NIN tour as a bonus. Download directly here, subscribe via iTunes or stream from the widget below!

Annotations:
00:00: As with every week, our theme music is "Black Cross (Dead When I Found Her Remix)" by ∆AIMON, available from Artoffact records.
00:45: Ned Raggett is cool as hell. Follow him on Tumblr and on the Twitter if you're so inclined.
01:30: We discussed the impending show and our feelings about it in Episode 8: Shopping Cart Down an Elevator Shaft.
02:18: We had a jaw about Hesitation Marks in Episode 3: A Friggin' Academy Award.
02:48: To get an idea of what we're talking about, you can watch the entirety of an LA show on Youtube.
05:10: Mike Garson is responsible for a lot of piano parts on albums you own.
07:15: Allmusic was pretty cool back in the day. Not quite as useful now, but still neat.
08:35: Ned's very lengthy VNV piece is right here. Set aside some time to read it.
13:23: Can we agree, friends, that "Darkangel" is still a banger?
15:02: No US dates have been announced yet, but there are still "many more dates to come" apparently.
18:15: Ned is referring to John Cale's "Close Watch", not "I Walk the Line".
19:08: You can listen to a chat we did with Alex Reed about his awesome book "Assimilate: A Critical History of Industrial Music" in Episode 7: Industrial Hype Men.
20:40: Ned's Pitchfork piece about Disco Inferno is some good reading.
21:39: Sorry about the audio dropout here, Alex's computer is a dog's computer, and we did not have time to re-render the file. For the record, all you missed was Bruce saying "this kind of music, which is one of the other reasons when Alex sent it to me…"
23:46: You can read Alex's review of Transnational here.
28:30: You can check out the talk Ned is referring to here.
38:20: The soundtrack to Cosmos was pretty amazing. Some of it was composed by Vangelis!
46:26: "Everything" really is a pretty good song.
47:33: Okay, abandoned is a bit of an exaggeration, clearly.
48:24: This got around back in the day.
50:19: Bruce can attest to the strength of the Pet Shop Boys' recent live show: the Pandemonium tour brought up a lot of unexpected emotion, not unlike that we've been talking about in connection to VNV.
50:36: Ned is referring to the VNV soundtrack for The Gene Generation.
51:28: The senior staff at I Die: You Die have no strong feelings about The Mountain Goats one way or the other, but they are well-liked by many people we respect.
55:30: The Eskimo & Egypt cover of "Headhunter" from that disc is actually pretty cool.
61:15: Sorry, forgot to set the phone to silent.
64:05: Robert Schuller was a popular televangelist for several decades.
74:08: The Quietus is bar none the best music website on the planet. Don't sleep on it.
74:35: Ned's take on the Medicine reissues.
75:18: You can't hear it, but Bruce and Alex mouthed "HOLY SHIT" at each other right here. Scott Walker is music nerd royalty. Here is that interview.
78:50: Chris Heath's Literally is a worthwhile read.
79:50: You can hear that Pet Shop Boys podcast at RockCritics.com!