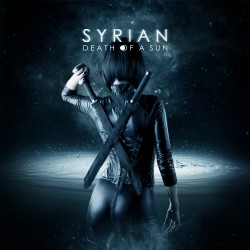 Syrian
Death of a Sun
Infacted/A Different Drum
It's been a hell of a year for synthpop already: between releases by Marsheaux, Kite, and Mr.Kitty we've already been treated to some of the best post-millennial iterations of a style that's been having something of a renaissance both in and outside of Our Thing. It's interesting to see a band we associate with futurepop like Syrian throw their hat in the ring with those newer artists, with that trance-inflected style seeing something of a resurgence itself this year, they seem uniquely positioned to comment on the recent history of synthesized popular music. Surprisingly, Syrian have gone exactly in the opposite direction you might expect, delivering Death of a Sun, a straight throwback record that maintains their emphasis on melody and energy while mining classic genre tropes for all they're worth.
Some folks may not recall it clearly, what with the popularity of things like the Drive soundtrack and the hyper-idealized vision of the cool dark 80s that never existed, but there was a time not so long ago that music like Death of a Sun wasn't considered very cool unless it was delivered with a sense of detachment or smirking cynicism. Part of what makes the LP so listenable is that Syrian have unironically doubled-down on that classic sound with absolute conviction, from their use of vintage equipment right down to the specific patches they've programmed these songs with. It's cute and fun idea (and one that has yielded results for artists as far afield as Neon Neon and Mirrors), but it'd be a hollow effort if they didn't actually have some solid jams in the mix too. My first thought upon hearing "Ninja Warrior" might have been "Man, that's a lot of orchestra hits", but my second was "Man, that's a catchy tune."
Yes, from the "Whoa-whoa" chant that kicks off opener "We Fade Away" to the twinkling OMD-nods of closer "Nuvole", Syrian tread lightly between indulging vintage production exercises and keeping the songwriting in focus. It's easy to latch onto the vintage drum machine and arpeggiated bassline of "Runner in the Night", but it's not 'til you realize how sticky and hummable the chorus is that its strength becomes apparent. Even when the style becomes the substance, as on "Dreaming" where Nile Rodgers-style guitar licks, female vocals and a sped up italo-lead take center stage it's all executed with enough panache to sell it. And if vocalist Andylab was ever afflicted with the self-seriousness endemic of futurepop in the past you'd never know it here, he strikes a nice balance of affability, charisma and sincerity as required. It's just a very charming effort overall, so much so that the craft of its construction is only noticeable when you're looking for it.
I suppose there are some folks who will find Death of a Sun a little on the nose, a little derivative, maybe even a little hokey. Nuts to them. Not unlike mind.in.a.box's R.E.T.R.O. (which similarly drew the lines between classic synth music and trance styles as Syrian do on "Fire in Your Eyes") you can view the stylistic plundering as shameless, but what you can't do is dismiss the quality of the material. To be honest I didn't expect to be so effusive about it when I first heard it, but repeated listens haven't taken any of the engagement or fun out of it. Damn if Syrian haven't struck while the iron was hot and made some fine music to listen to at seemingly just the right time, riding high into the stratosphere on the gusts of the zeitgeist.