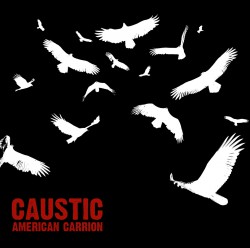 Caustic
American Carrion
Negative Gain Productions
Matt Fanale's work as Caustic has achieved a sort of cult status, even within the already marginal confines of North American industrial. Some of that comes from his tenure (Fanale has been steadily releasing material and performing live for close to a decade and a half), but a large part of it comes from his engagement with his audience: as evidenced by his consistently successful crowd-funding efforts Fanale has made fans who are genuinely invested in him as an artist by virtue of his accessibility and candor. That reputation for foul-mouthed forthrightness serves him well on American Carrion, the first explicitly political record in his catalogue, a blending of the rough DIY sound he's been re-cultivating and everyman outrage.
Musically the record picks up from the rugged, groove-based compositions of 2015's Industrial Music. Given the broad themes of disillusionment with America's political and social institutions in the Trump era, it shouldn't be a surprise that there are a number of beat-heavy shout-alongs. Opener "Purgative" and mid-album rager "Heads Down, Fingers Up" both ride tightly sequenced synth basslines that bubble underneath Fanale's furiously delivered stream of targeted obscenities. "Fuck corrupt religions/Fuck the politicians" is pretty direct as messages go, but why play coy when it feels like the world is collapsing in on itself? It's an anger rooted in a relatable anxiety that plays out across the album's ten tracks. When Matt sneers "We're all canaries in the mine" on the dubby Meat Beat-esque title track its half an expression of malaise and half uneasy hint at what horrors are still to come.
Fanale manages to parlay more nuanced critiques (health care, the rise of the alt-right, homophobia and misogyny) throughout American Carrion with subtle nods in vocal style to Stromkern, Nitzer Ebb, and PWEI. It's a smaller point, perhaps, but that variety in delivery matches up with his willingness to switch back and forth between musical styles and influences. His oft-mentioned love for Underworld is carried forward in the excellent and surprisingly proggy chill-out voyage of "The Coital Staircase", while "Fuck That Fascist Beat", "Angel Grinder", and the aforementioned "Heads Down" straddle the line between classic EBM programming and recent reworkings of those sounds from outside the genre.
Fanale's always been a student proper of post-industrial history and there's plenty of play with its styles and signifiers here even if the theme of American Carrion is strongly focused. Not quite a full-bore concept album, it is however the sort of record some have been prophesying over the past couple of years as western culture's tailspin only grows sharper (though that's cold comfort for those directly suffering at the hands of the forces Fanale decries). Less than a week in, 2018 looks to be no friendlier than its predecessor, and Caustic's given the year its first thumb to the eye.