End to End is our track-by-track take on non-album and compilation releases, in which we try to give thumbnail first impressions of each song and point to particular numbers to be cherry-picked via the consumer's online retailer of choice. This time we're scanning a collection of remixes from one of our favourite Swedish groups, fresh to our ears from a new domestic pressing….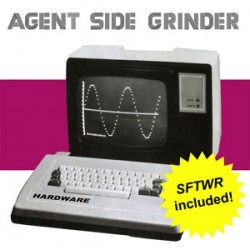 Agent Side Grinder
SFTWR
Klangarkivet/Artoffact
Folks who have been following ID:UD for a while will no doubt be aware of our affection for Sweden's Agent Side Grinder. While we carry water for all kinds of EBM and synthpop from Mother Svea, there isn't really any bands anywhere like ASG; their brief discography has rapidly evolved through post-punk, early body music and tape based experimentation, culminating in the astoundingly good Hardware, a record that rests somewhere at the nexus of Kraftwerk, the Cabs and Joy Division with a little nordic flavour of its own devising. Following up their acclaimed 2012 album Hardware (read about it here) came the remix release SFTWR, a collection of remakes from across their career, the whole of which is generously included in the Artoffact reissue of the former album. So how do the 15 tracks on the SFTWR fare? Let's give it a spin.
"Wolf Hour (Red Idiot RMX)"
A none too shabby remix of the single and Henric de la Cour collaboration layers some heavy reverb and synth pads onto the sparse original for a pleasingly large effect. The original is pretty bare and relies mostly on the vocal interplay between De La Cour and Kristoffer Grip, so beefing up the instrumental without taking focus away from the two distinctive voices makes for an engagingly different take without massive renovation of the song.
"Bring It Back (/MF/MB RMX)"
Rhythmic elements are kept central to the track although I'm also getting some notes of shoegaze in the hazy guitars that appear midway through. Decent, although perhaps a touch unfocused structurally, it builds up, breaks back down and then builds up again without seeming to really move forward very much.
"Life In Advance (Jacques C RMX)"
I've actually been playing this one for a minute now, ever since it appeared on the second label comp from DEATH # DISCO last year. "Life in Advance" is an amazing song to begin with, and this clubbed out version doesn't detract from its charms, mostly pumping up the bass and adding some DJ friendly changes. Solid gold any way you wanna slice it.
"Die To Live (Container 90 RMX)"
"Die to Live" is one of ASG's punkiest songs, so I guess it makes sense that reigning kings of Swedish OiBM Container 90 take it on. It actually plays like a cover more than a remix, as C90's Jon and Ron add plenty of chantalong singing and their rock-styled drum programming for that neo-oldschool sound. It's cute and especially fun if you're on a kick with the remixing artist (as I currently find myself).
"Voice Of Your Noise (FOLD RMX)"
A song that probably embodies ASG's similarities to early Cabaret Voltaire and Clock DVA more than any other in it's wild and unfocused squiggles and flat rhythm track gets a deep techno makeover that puts me in mind of Josh Wink a little. Not bad, although not really my cup of tea.
"String Strikes (CVRD by Styx Tyger)"
The Neubauten-by-way-of-Tangiers original gets remade as something of a twee-indie number, complete with plinky guitars and falsetto vocals. I'm not a huge fan of original songs in this vein, although I'll admit it's well executed for what it is.
"Stranger Stranger (Dödens Lammungar RMX)"
This actually sounds like what the lovely, mellow "Stranger Stranger" would have sounded like if it had been recorded by Agent Side Grinder around the time of their debut album, with a grittier and more dubbed sensibility. It's pretty okay, and I like the idea of another band remaking one of ASG's songs in another of ASG's own preceding styles.
"Sleeping Fury (Mighty Thor RMX)"
Sadly not a remix by the Canadian bodybuilder/rockstar Thor, although the mechanized zip and vocoder action applied here is still kinda neat. Alright, although not a patch on the amazingly good original by any stretch of the imagination.
"Look Within (Du Pacque RMX)"
A slow build into a straight up rocker of a remix, this is giving me a similar vibe as that Dödens Lammungar mix a few tracks back, that ASG could have recorded the song in a similar manner themselves a few years ago. I dig it alright.
"010-195 (Th. Tot MX)"
The Transatlantic Tape Project is an interesting experiment from Side Grinder, although its lengthy collaged songs don't seem like prime remix bait. I honestly feel like this has more value as a pointer to certain elements in ASG's own sound (namely their tendency to mess with sonic texture in unusual ways) than as a song in its own right. Not bad, but kind of out of place on this release.
"Black Vein (Rude 66 RMX)"
Like so many of these songs, this one keeps the synth bass and drums as constants while layering bits of guitar noise and keyboard grind on top. I wouldn't necessarily have pegged this as a key song for remixing, but it works well enough and fits in with many of the other remixes for an added bit of listening continuity.
"Rip Me (Sunbringer RMX)"
If "Rip Me" was a 12″, this would be the "Dub" mix on the b-side, stripping out most of the vocals and the mid-period Kraftwerk moves of the original while leaving it instrumentally intact for the most part. I'm okay with it, although it doesn't jump out especially.
"Die To Live (Blackstrap RMX)"
A deliberate synth crawl with some scraping and distorted sounds escaping from beneath the hood, this is pretty dark and different than the manic pace of the original cut. Another one that suggests a lack of attention to direction, I like how it establishes itself, while wishing it would do a bit more as a complete song from an arragement standpoint.
"Life In Advance (CCIS Dub MX)"
Just what it says on the tin, this is all deep bass and ringing guitar accents. You can feel this mix coming out of your subwoofer, and like so many dub mixes it seems more suited for a selector's playlist than anywhere else.
"Mag 7 (Jasper TX RMX)"
A gargantuan take on the noodly Hardware highlight, this takes its sweet time growing from a lo-fi pulse into a lumbering and indistinct collection of crashing reverbs. Almost a bit of post-rock in its spare and eventually overpowering build, it's an appropriately stately way to finish off this collection in all its seedy majesty.
The Takeaway: I'd have no issue suggesting a CD purchase of this disk for fans of Agent Side Grinder; unlike a lot of extended collections of stylistic reinterpretations the number of tracks worth listening to more than once is quite high. For real though, with this included as a pack in on the Artoffact re-release of Hardware – which can be had digitally for $7.99 on iTunes, incidentally – you'd be a fool not to take advantage: a bargain is a bargain. If you're still not sold and want a taster check the Jacques C and Red Idiot mixes, although their purchase would put you a quarter of the way towards the whole thing. Happily recommended.