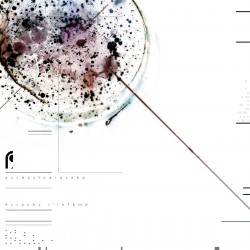 Access To Arasaka
Écrasez l'infâme
CRL Studios
EPs have played a huge part in the development of Access To Arasaka, demonstrating interstitial development of the acclaimed IDM/technoid project between LPs as well as offering fun conceptual detours. Totalling for a run-time almost as long as that of AtA's four full-lengths combined, EPs like Vessel and the fantastic Orbitus have yielded some of Rob Lioy's strongest work, a tradition Écrasez l'infâme continues. Long-time ID:UD readers may recall I felt as though Geosynchron was an ambiguous step into the unknown. Released about fifteen months afterwards (2012 marked the first year in AtA's history without a release), Écrasez feels like a much more confident and thorough expansion of the project's range.
Before even getting to the music, the presentation of the EP itself feels like an exercise in contrasts: borrowing a title from a motto of Voltaire's ("crush the infamous") feels a bit directly confrontational or political for a project which has always felt almost wholly abstract, if not unemotional. On the flip side, the song titles are about as abstract as it gets, moving further away from the code fragments of void(); for dashes and spaces which seem to suggest binary. While I was unable to ferret out any messages of titles like "– -" and "– – – -", the six track titles did produce a possible secondary coded message when converted to hexidecimal (15, 2d, a5, 17, b2 05, b7 03).
Things are no less mercurial and bewildering when the tracks are actually listened to. The first feels like a Geosynchron outtake, all dense, gurgling glitches and pads over an amorphous, frenetic base. However, on the second track, things break into a new direction: a muted but pulsing and downright catchy synth-riff is set against a mid-tempo break. Part Vangelis' closing credits to Blade Runner, part the new industrial-techno hybrids we're hearing from Black Kolor and Forces, it's a fresh side of Arasaka's work, and one that Lioy seems to take to like a fish to water.
The two brief tracks which follow hearken back to Orbitus, offering much of that release's aesthetic (soupy, spacey ambiance a-la Forma Tadre's Automate speckled with AtA's trademark micro-beats and some mournful, melodic pads) in thumbnail form. The fifth is marked by a panicked thread of percussion that connotes a totally unrestrained version of Geosynchron's sound, but it's on the final track where Lioy ventures into truly new territory for a second time. There have been purely ambient AtA tracks before, but none as dark, none as deep, none as legitimately stygian as this. While perhaps a bit too inorganic for some dark ambient purists, I for one would welcome an entire album like this: a slowly breathing drone augmented by what could be static or an iron lung malfunctioning, with some austere sustained chords emerging just at the end.
Bringing two new distinct sounds (and executing them well) to a project with a now pretty firmly established aesthetic in 24 minutes is no mean feat. Doing so while also offering other examples of your most recent work and still offering your audience a unified listening experience is a testament to just how adept Access to Arasaka has become at using the EP format to its fullest extent.