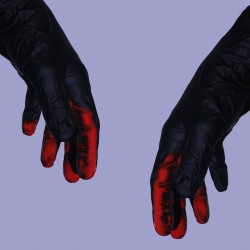 Joel Eel
Very Good Person
self-released
As the title of his debut suggests, there's something weirdly affable about the music Joel Eel makes. The Torontonian producer/performer makes some lo-down, dirty and wet synth music that fits into the ever expanding territory where body music and techno meet, his own monotone vocal delivery adding personality to many of the varied tracks on Very Good Person. There's actually a pretty decent variety of sounds on display here: where the title track features Eel reciting lyrics in Korean over a rattling rhythm track and a sharp synth loop that recalls early Black Strobe, it's quickly followed by tracks like "Fever" and "No Hard Feelings" which invoke classic acid and EBM in their design and instrumentation. The use of tension and is especially important to these songs, as demonstrated by the slow-burning "OMG", which gradually adds percussion elements and has a bassline that shifts from subterranean groove to raunchy squelch and back again, while Eel enumerates a list of post-modern afflictions before capping them off with an apathetic "Oh my god". For a comparatively brisk listen, it's a release that goes quite a ways to establishing the project's toolset and personality, all of which is handily summarized in the varied takes on "Love Below" that close matters out.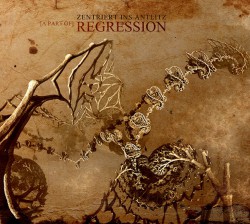 Zentriert Ins Antlitz
A Part Of Regression
self-released
As discussed on the podcast this week, the lengthy hiatus of Germany's Zentriert Ins Antlitz was recently snapped with a new EP. While its trappings (free, self-released, high-quality FLACs) are classic ZIA, a lot's changed. The chilled-out moods and mellower sounds of …No are certainly still present (there's nary a peep of their churning dancefloor ambitions of the past), the band's instrumentation and style have undergone some significant changes in the intervening years. Choral elements hold sway in "Fallout", set against a mellow groove which bears some traces of the band's roots in electro-industrial, but ends up somewhere between Liquid Divine and Enigma. Even if the medieval sex jamz of the latter aren't maintained throughout the rest of A Part Of Regression, the laid-back vibe certainly is. "Regression", "Remember", and "The Arc" each proceed languidly in downtempo fashion, with pretty keyboard figures swirling over nodding beats. They're perfectly pleasant and relaxing pieces, but all save the last tend to run towards the long side without much in the way of movement (for its part, "The Arc" slowly builds and releases tension with some more classic pulses and pads). Despite its long run-time, I'm not sure A Part Of Regression offers enough to get a sense of where the new ZIA is heading, though it does at times sound like a band caught somewhat adrift.