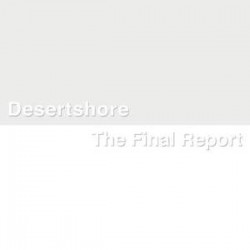 X-TG
Desertshore / The Final Report
Industrial Records
We tried to keep our expectations for Desertshore / The Final Report restrained during the lead-up to its release, but to no avail, containing as it does an unparalleled list of contributors from the industrial and post-industrial spectrum, and the last work of Peter "Sleazy" Christopherson. In spite of this, our hopes for the album were quickly superseded by the strength, power, and beauty of the material it was revealed to contain. To keep things compartmentalized and prevent at least some fannish effusion, we've each tackled one of the two releases.
Alex: Desertshore
The story is well-established by now: in the summer of 2007, the temporarily reunited members of Throbbing Gristle recorded a series of public performances at the London Institute of Contemporary Arts, inspired by Peter "Sleazy" Christopherson's desire to "reinterpret" Nico's 1970 album Desertshore. While the sessions yielded a monolithic 12-CDr boxset, The Desertshore Installation, Christopherson continued to work on refining the loose set of recordings into an album proper right up until his death in late 2010. Almost two years later the project has emerged under the aegis of X-TG, a name chosen to denote Sleazy, Chris Carter and Cosey Fanni Tutti's collaborative efforts in the exceedingly brief period between the dissolution of TG (prompted by some unknown conflict with the group's erstwhile leader and primary vocalist Genesis P. Orridge) and Sleazy's passing.
It's almost inconceivable to me that Desertshore now exists in any concrete, physical way, and not just as a collection of abstract, fevered ideas. I've begun to write about it at least a half dozen times since I first heard it, and each time I was rapidly derailed, thrown off course by gusts of emotion, and the sheer difficulty of constructing a critical framework to understand everything it represents. If it's this difficult for a punter like me to write about, what kind of herculean task must it have been for its curators to hammer it into existence? The obvious comparison is probably the most accurate one; in 2005 Sleazy completed and released The Ape Of Naples, a coda for his 20 years of collaboration with Johnn Balance as Coil, based on material the two had been working on before Balance's accidental death. Like that album, Desertshore emerges from a birth caul that doubles as a funeral veil to reveal a work of singular beauty and emotion, a lightning-in-a-bottle collection of songs that speaks to what is, and what could have been, and most damnably affecting of all, what was.
In that context, Sleazy's selection of Desertshore as a subject for a covers album is almost too pat, too perfect. Of all the former Velvet Underground chanteuse's albums, it's the one that's taken on a mythically elegiac quality commensurate with Nico's reputation as a kind of earthly avatar of personal tragedy, and the metaphorical and literal ugliness that can (and arguably must) co-exist with beauty. Still, in an interview with The Wire before his passing Sleazy spent more time discussing the significance of Nico's collaborator John Cale than the woman herself, and ultimately the X-TG Desertshore has much less to do with her than with Sleazy's own legacy. His sensibility and his particular brand of whimsy is writ large across the record, casting a long shadow from whence Chris and Cosey have laudably managed to render something elegant and wondrous.
And that's an incredibly important thing to understand about Desertshore; listening to it can be an immensely sad experience, but it can prove equally meditative and dare I say cathartic. Sure, listening to Antony Hegarty recite the brooding lyrics to "Janitor of Lunacy" in her unearthly falsetto is emotional but it's not pure sorrow, there's almost a wink there, an admission that even at their most humorless the collective works of the persons involved has a certain kind of archness, a disregard for expectations that slides headfirst into outright confrontation. Christopherson reportedly wanted to enlist vocals from British musical satirist Jake Thackray and animator and puppeteer Oliver Postgate for the project at one point, a reminder that musicality was never an overriding concern for him. Ever the agitator, his work was frequently a testament to how the crooked and unsettling have an attraction of their own, an idea reinforced by Carter and Tutti's inclusion of a distinctly flat and campy vocal turn from former porn actress turned noise musician Sasha Grey on "Afraid" and filmmaker Gaspar Noé's affected recital of "Le Petit Chevalier".
That isn't to say that there aren't moments of transcendant beauty to be heard. Indeed, the effect achieved by pairing sometime Coil collaborator Marc Almond with the dark instrumentation of "The Falconer" is so jaw-droppingly gorgeous that it takes on a kind of timelessness. Yes, the tools used to create and record it are of a modern vintage, but the subtlety with which they're applied is so light, so masterfully executed that the lines between the organic and the electronic are blurred clean, synth strings, springy percussion and dark pulsing bass that are somehow both baroque and minimal, Almond harmonizing with himself as if he were legion. It's so striking because so often the same tools are also used to the opposite effect; when Blixa Bargeld appears on the second of two contributions with "Mütterlein," the electronics are fused into a brutish, basal rhythm with screeching feedback to compliment the Neubauten vocalist's nasal deadpan. Conversely when Fanni Tutti sings on the sublime "My Only Child" she comes across as positively maternal, no small feat for a performer whose career has by and large entirely rejected the role of woman as caregiver. It's no surprise to anyone who pays attention that the ex-members of Throbbing Gristle can flip approaches with nary a concern for cohesion; when an artist defiantly invents their own circumstances on every outing there's no such thing as a stitch out of place, or a visible seam.
The ultimate truth that permeates and defines Desertshore is that it's an ending, a completely literal goodbye that serves as tribute and finale. When the ghostly voices of Sleazy's friends, bandmates and admirers emerge on the title track (nominally the only original composition on the first half of the double release) with the gentle treatise of "meet me on the desertshore," the message could as easily be for the listener as for Christopherson. Yes, all this is for Sleazy, but it's for us too, and just as the emotion builds to a climax it all falls away and a simple piano figure rings out only to fade away again. It's over. That finality is of course an illusion: we can easily return to the beginning of the album. Hell, we can go back and listen to all of the component artists' collective works in any combination we desire, indulge in infinite combinations as a kind of practical time travel. Inasmuch as I think it's a mistake to guess the perspectives of a departed stranger, I also feel like Sleazy might have liked that idea. Desertshore is his presence made manifest, the cheeky artisan, the thoughtful bacchanalian, the architect, the dreamer still asleep. We have but to listen, and he remains.
Bruce: The Final Report
"Of course, we are meat. We are potential carcasses." – Francis Bacon
It is impossible to listen to Desertshore without hearing the ghost of Peter Christopherson drifting overhead and smiling at every note. But The Final Report feels just as marked by his death, paradoxically by presenting his last work as part of a living, breathing continuum. In stretching The Final Report's compositions to their logical but harrowing ends, and by stressing the ambiguity of endings and death itself, X-TG have offered a perfect, unresolved coda to the journey they began nearly forty years ago.
From the opening moments of "Stasis", its tapestry of sweeping drones, grotesque horns and percussion which recalls nothing less than industrial manufacturing feels like a disarming blessing. You can practically hear the trio chuckling in your ear: "of course we can still make this shit. We invented this shit." There's nothing feisty or cocky about this reassertion, why should there need to be? The groans and reptilian clicks of "Trope" and the tremulous voices of "In Accord," with its gurgling synths and topography of rotting crackles unfold with utter calm; none of the showy self-promotion of the nouveau riche here, simply the continuation of the sounds and atmospheres which infamously branded these people "wreckers of civilisation" (and yet, history is still written by the winners).
None of this is to say that there aren't differences between The Final Report and the original TG records: the warmth which Paul Morley predicted would be TG's legacy is present from the outset for perhaps the first time, from the almost comically burbling synths and bass, to the guitars whose light distortion have nothing to do with the disquiet they produce, to the shrouded vocals and blast furnace ambiance. The stew of clattering reverb and queasy woodwinds and brass of Part Two: The Endless Not, even late-period Coil's less mournful moments: The Final Report is a sequential step taken from those records.
The Final Report's dense sonic palette is one of smothering and overlapping, with sounds almost falling over the edge of the compositions as if they were a corset cinched too tight, or fillings sliding out of a sandwich at the first bite. For all of the attention to sound design which decades of studio experimentation have allowed the trio to wield, though, The Final Report is never abstract: it is visceral, bodily music, the weight of which can practically be felt against the chest. Phrases and figures twist and contort, unravel and explode like those in Jungi Ito's work and body horror: they are monstrous, but driven to such extremes by latent drives contained within. That there is no threshold to be found, no one particular demarcation between human and inhuman, between pleasing and unsettling sound, is part and parcel of The Final Report's unnerving gravity, but also its potential for seduction and liberation.
Of his famed Velázquez variants Francis Bacon said he "wanted to paint the scream more than the horror." Like Bacon, Throbbing Gristle never relied on cheap scares, even at their most gruesome. "Hamburger Lady" and "His Arm Was Her Leg" are punches to the solar plexus not because of the pain they connote, but because of the elasticity of the body they betray. That the permeability of the body, its decay and reshaping into something utterly alien is not only possible, but natural, is the anxiety which is in play in those works, and the bubbling excess which drives The Final Report. In her work on the abject, Julia Kristeva contended that "refuse and corpses show me what I permanently thrust aside in order to live. There I am at the border of my condition as a living being. My body extricates itself, as being alive, from that border…. The corpse, the most sickening of wastes, is a border that has encroached upon everything. It is no longer I who expel, 'I' is expelled." Such fears have always been part of industrial music's obsession with dehumanization, and sit at the heart of The Final Report.
Given two records – a "last wish" concept album dreamed of by a departed member, and a culling of the band's most recent studio sessions – nearly every band on earth would elect to sequence the latter before the former purely for the sake of romanticism, if nothing else. The former members of Throbbing Gristle are not every other band, and the decision to have The Final Report follow Desertshore speaks volumes. As I said before, this record proceeds extremely organically from the work which came immediately before Desertshore. Listening to The Final Report after Desertshore is rather akin to going to a chummy co-worker's funeral on Sunday, getting out all the tears and goodbyes, only to find him back at his desk on Monday as if nothing had happened. It's a shocking experience, and goes to show that you can never take "business as usual" at face value when the people behind X-TG are involved.
Of our need for clear and distinct endings in art, the literary critic Frank Kermode wrote that people "like poets, rush 'into the middest,' in meidas res, when they are born; they also die in mediis rebus, and to make sense of their span they need fictive concords with origins and ends, such as give meaning to lives and to poems. The End they imagine will reflect their irreducibly intermediary preoccupations. They fear it, and as far as we can see have always done so; the End is a figure for their own deaths." X-TG are trickster gods, always rearranging the order of cantos, entreating us to look beyond death even as they forever rewrite their own epitaph. Even when "the mission [was] terminated," a multiplicity of releases – live and otherwise – slipped through the cracks of Throbbing Gristle's tomb, and kept their cult alive even as industrial music spun off in directions unchartable even by Coil's astral cartography. Their legacy is fractal but also irreducible, perpetually leaking through our fictive limits. For all of their austere uniforms, the monolithic presentations of their work, the brutality of their visual style, Throbbing Gristle understood that there are no easy endings, that there are no clean corpses. With The Final Report Chris, Cosey, and Peter have instead given us an exquisite corpse, a poem unlimited. The mission continues, in strange new ways.