End to End is our track-by-track take on non-album and compilation releases, in which we try to give thumbnail first impressions of each song and point to particular numbers to be cherry-picked via the consumer's online retailer of choice.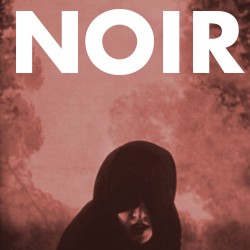 Noir
My Dear
Metropolis Records
Noir is the new project from Athan Maroulis, ex-vocalist of beloved 90s scene act Spahn Ranch, as well as Cleopatra compilation mainstays Executive Slacks, and more recently Black Tape for a Blue Girl, of all bands. Their artist page on Metropolis's website says that Noir is "a sensuous electronic return to form for Maroulis" and that it combines "the bleak irony of Weegee photos, fleshly lyrics, empty subway stations and the dark sarcasm of Rod Serling into a collection of throbbing dancefloor interludes", thus marking the first time I've ever read the word "fleshly" in a band's bio. I'm game at any rate, let's have a listen!
"My Dear"
The single itself is kind of a minimal electro-goth thing: drums, bass and flavour synth making up the body of the song proper. It's not too bad, I kind of like the hints of twinkly electropop that show up throughout, although minus the vocals from Maroulis it'd be a bit dry. Thankfully homeboy's voice is just as dark and butter-smooth as always, lending the whole affair some character. As a first single for the project it does seem a touch unfocused, but not entirely without its charms.
"A Forest"
Okay, I don't even know what to say about this, except that we really, really don't need any more covers of The Cure's "A Forest". It's been done so many times that it's almost impossible to care about what any individual artist does with it, and let's face it, nothing is ever going to compare particularly favourably with the original anyway. Just how ubiquitous is the song? Clan of Xymox covered it on an album that came out on the same label just over a month ago. C'mon. Fine for what it is, but wholly unnecessary.
"My Dear (Assemblage 23 remix)"
Now we're talking. Tom Shear is a fabulous remixer. As a characteristic writer, producer and performer himself, he has a good grasp of what the best elements of a song are and can figure out how to keep them intact while adding his own touches. The beats are more clubby, the chorus pops bigger and the mix moves, especially when a much busier bassline comes in on the second verse. I'd spin this. You could use it as a bridge track between EBM and more darkwave styled songs or just for a nice bit of emotive dancefloor fodder. Solid.
"My Dear (Ego Likeness Remix)"
Ego Likeness are amongst the best acts doing the American darkwave thing, and in theory their style should suit this number perfectly. I'm actually a bit surprised they did such a straightforward mix, beefing up the beats but leaving most of the rest of the song untouched save for a bit of build up late in the song. It's fine, but it seems a bit pale following the A23 mix which does pretty much everything this version does, but with a bit more oomph.
"My Dear (Manmademan Remix)"
I dig this remix, which definitely plays off the hints of electro in the original version. The vocal processing and added bounce to the drums are welcome additions, as is the nice, dreamy whispers, which remind me a bit of Seabound's "The Promise". At three and a half minutes it's brief, but does what it came to do. Not shabby.
"My Dear (Lust Murder Box & DJ Void Remix)"
This seems to be an attempt to make the song bigger and more akin to current club sounds, although I think it ends up making the song more generic. Maroulis is definitely the most noticeable and enjoyable thing on the song, and de-emphasizing him comes off as a bad move: a rougher bassline and stabbier synths might get you some more playlist space but it doesn't do much to help the song stick or seem unique. Nothing special.
The Takeaway: I think this is the first digital single Metropolis is selling through Bandcamp, which invalidates these articles somewhat: you can just pop over there and have a quick listen to it in full if you're unsure about whether this'll interest you. I'll recommend grabbing the Assemblage 23 remix (which is good enough that I just threw it on again for kicks) and the Manmademan take if you want something a bit quirkier. I can't say this got me crazy psyched to hear a whole album from Noir; it's decent enough but the jury is out 'til we hear more originals from the project.