End to End is our track-by-track take on non-album and compilation releases, in which we try to give thumbnail first impressions of each song and point to particular numbers to be cherry-picked via the consumer's online retailer of choice.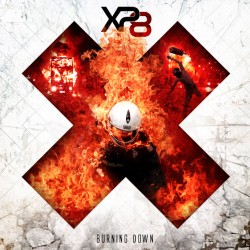 XP8
Burning Down
self-released
Towards the end of last year Italian club and studio mavens XP8 released X: A Decade Of Decadence, an anniversary odds n' sods collection which featured a number of new tracks alongside remixes of earlier hits. Now, the Marc/kos (Resurreccion and Visconti, respectively) serve up a batch of remixes of those tracks, namely the titular trancey cut (with one or two new pieces to boot), making plays for a wide variety of dancefloors. It's all a bit confusing, but it should come out in the wash as I go through it track by track. Fire it up!
Wake Up! (Awoken by Nitronoise)
Marko's vocals and some of the original's leads are wrapped in tinfoil, tightened, and hurled down a tunnel of very familiar terror beats and bass. Should work on some folks' dancefloors, but really not my cup of tea.
Burning Down (Phunckstzille & Pink Foamy Remix)
Some cool, sparse and shaking builds and falls which almost remind me of NCC and play up the song's strengths by making the listener wait a while for the chorus to crash through. Nice stuff.
Trip feat. Stewart Who? (Kommand+Kontrol Remix)
Between some millennial house moves mixing well with EBM elements and the catty vocal turn, "Trip" might have been my favourite cut on X. It gets an understated, lean electro workover here with *gasp* some wobbly bass. Not bad.
Burning Down (WormZ Remix)
Oh man, I might have to recuse myself on this one, as hardstyle's something of a bridge too far for me. The melodic lead clicks along well enough, and the production is nice and spacious for such a thick and unrelenting style, though.
Juggernaut (Iszoloscope Remix)
Digging back to a cut from 2008's The Art Of Revenge, Yann finds a way to blend his mastery of percussive noise with a waterfall of electro riffs. While still abrasive by most standards, it's a much more melodic turn than we're used to from Iszoloscope, but one which still holds to the ebb and flow of the original.
Burning Down (Dirty And Grim Remix by Antythesys)
An oddly minimal mix which takes a hushed hardcore read, allowing some bouncy components of the melody to bleed through the restraints from time to time. Can see this working in some crossover DJ sets.
The Wound That Won't Heal (People Theatre Pansement Mix)
A tasteful, in the pocket futurepop mix that puts the vocals front and center. The beat and most of the instrumentation drop away for perhaps too long at the beginning, but it's a tidy bit of work on the whole.
Burning Down (Freakangel Remix)
Bounces along with an eye to dancefloors well, but after burying the vocals in some extra distortion and adding processed bass and sinister leads, the relatively untouched original vocal chorus just doesn't click with the new elements for me for some reason; kind of a sum of its parts problem. Very nice production on this one, though.
The Night Of Pan
Chill, mid-tempo instrumental track that serves as a nice palette cleanser and shows that XP8 can do longer, building, contemplative stuff when they take a break from club bangers. I realise that the band's last couple of releases have been specifically aimed for club markets, but it'd be nice to hear more of this mood surface on future releases.
Burning Down (Needle Fac†ory Remix)
Alex previewed this one a couple of months back. While not a club track to most folks' minds, in all likelihood, it finds a great balance between the woozy beats and smothering atmosphere of witch house and some classic, grinding electro-industrial programming.
Bullet Hole (Skinjob .303 British Remix)
Ain't nothing wrong here, just some solid electro house foundation, clean leads, and lots of room for vocals. Adds some solid bass grooves and makes an instantaneous bid for club play without ever pandering. Strong work.
Burning Down (Outro Mix by Cryogen Second)
Opting for a cinematic slow build to close things out, Cryogen Second turn the title track on its head by swapping out the punchy leads for big, long, orchestral sweeps. Despite being radically different from the original in effect, it's remarkable how natural this interpretation feels, as though it's uncovering innate strengths in the source material rather than having to drastically reconstruct it. A great finish to things.
The Takeaway: Burning Down's strength lies in the sheer range of styles its remixers incorporate into the source material. Moreso than most releases we evaluate using our End To End format, Burning Down practically begs to be given a once-over by DJs of all stripes, browsing for particular cuts that'll best suit their particular environs. With that in mind, endorsing my favourites seems a tad redundant this time out, but I'll go for the Phunckstzille & Pink Foamy and Skinjob mixes for club play, while "The Night Of Pan", the Needle Fac†ory and Cryogen Second all have charms outside of setlist fodder. Also, despite it not working for me personally, I feel as though the Freakangel remix deserves a proper spin from other listeners who might feel differently.