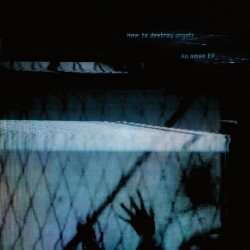 How to Destroy Angels
An Omen
Columbia Records
The uphill battle facing How To Destroy Angels has nothing to do with garnering attention for their small body of work. As a project of Trent Reznor and his now constant collaborator (both in the latter Nine Inch Nails albums and their ballyhooed soundtrack work) Atticus Ross, name recognition won't ever be an issue for the quartet, which also includes Reznor's wife Mariqueen and art director Rob Sheridan. The real challenge will be in differentiating and justifying the project's existence beyond being just an off-shoot of NIN, a double-edged sword that both assures a modicum of success even as it buries their new EP An Omen in expectations. Their free-to-download self-titled debut was reasonably good (and in fact featured the best post Ghosts song Reznor and his camp have been involved with in "A Drowning") but how do How To Destroy Angels fare with the higher ante of a sophomore release?
The inevitable comparisons to Nails certainly aren't hard to make; the question of how far the HTDA apple has fallen from the tree is answered almost immediately on opener and lead single "Keep It Together". The emphasis on bass that features so noticeably on everything the Reznor/Ross axis has worked on since With Teeth forms a bed on which Mariqueen indulges the mildly distracting habit of aping the phrasing and deliberate enunciation of her husband's more restrained vocal moments, a tic so identifiable that even Trent's vocal appearance mid-track is unnecessary to twig it. Elsewhere on "The Loop Closes" a jerky groove derezzes and re-emerges via a swarm of bleeps and a chanted chorus that invokes the proggy warmth of The Fragile. Hell, even the bare, folky "Ice Age" has antecedents in any number of NIN songs via its use of plinky detuned guitar.
Of course "It sounds like Nine Inch Nails" doesn't amount to much of a criticism when Trent's brand in 2012 is synonymous with meticulous, artful production. An Omen is as sumptuous as anything I've heard this year, even in its silent moments it positively hums with the digital-organic sound that has characterized Ross and Reznor's work together. The shimmering, backmasked orchestra sounds of "On the Wing", the way Mariqueen's voice fades gradually into a background texture with deliberate slowness over the course of "The Sleep of Reason Produces Monsters", the sculpted feedback on closer "Speaking in Tongues" – all the work of artists who have made the recording environment their definitive instrument. I don't think it's any coincidence that almost every photo or video of HTDA is taken in a studio setting (witness the clip for "Keep it Together" for a good recent example); at this point the workshop itself is as much a part of the project as any of the individual members from an aesthetic standpoint.
I don't know that An Omen goes any further towards defining an identity for How to Destroy Angels beyond Nine Inch Nails. In fact almost all of its strength comes not from individual songs but from the distinctive studiocraft of its makers. I suppose that's a bit of an academic concern in the grand scheme of things, and I'm generally happy enough to have this sort of a mellow detail-focused bit of sound to accompany late night bus rides and reading sessions. Still, it's not the most emotionally involving collection of songs, and I can't help but think that its precise nature is a kind of smokescreen that effectively hides how shopworn it is lyrically and thematically. At the risk of being prescriptive, HTDA could take a lesson from Scott Walker or Ryuchi Sakamoto or even the band who inspired their name: exacting use of technology in translating songs to the recorded form need not rob them of their depth of feeling.