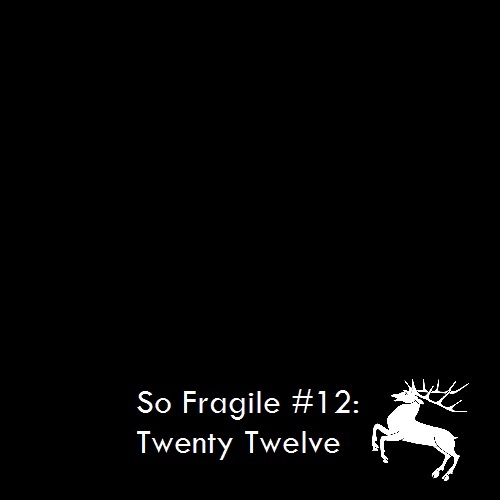 Hey, friends! We're happy to bring you the twelfth installment in our family label mixtape series. No grand conceptual conceit this time, just some nice, mid-tempo dark electro of all stripes which we've enjoyed listening to at home and in the club this year. As always, the music selected for this mix was purchased or provided by the artists or labels, we encourage all y'all to drop a few bucks on a d/l or a CD if'n you like something you hear. Stream or download from the Soundcloud player below!
Portion Control, "Deadstar"
Like we said a couple months back, the UK synth-punk legends have been on point since their millennial reemergence, dropping track after track of aggro nastiness which feels like both a victory lap and a wonderfully up-to-speed engagement with current dancefloor tropes. Pure Form is chock-a-block with punchy numbers like this and is sliding in nicely with our club sets.
iVardensphere, "Cracked Earth (Encephalon remix)"
Two of our fave Can-Con artists team up and as expected, the results be slammin'. Remixes often sway too far from the source material to the point of losing the charm of the original, so it's always a pleasure to hear it when an artist can meld their particular style (in this case Encephalon's ever so listenable new school electro-industrial) with a wholly different kind of song and not completely submerge the essence of the track.
Object, "Density of Fear"
We think you will find that Object are AUTHENTIC DARK ELECTRO of the highest order. Hah, just a little rib at Electro Aggression Records boss Nader Moumneh there, and for reals, if you dig on the melodic dark electro of the 90s like we do, you'll probably quite enjoy a track or three from this year's Mechanisms of Faith. This one's a bit on the looser side, but we think it fits well with the tape as a whole.
The Pain Machinery, "Liquid Silver"
We talk about The Pain Machinery a lot, because we like them, but also because they have latched onto a sound that tickles a bunch of our respective interests. Old school EBM, acid influences, retro-minimal fetishism and punky lyrical concerns; these are things we like and are interested in. Now, whether that's a chicken or the egg scenario that dovetails with our coverage of The Pain Machinery or not, we could care less, we want people in North America to know about them and will keep giving them shine 'til it happens.
Volt 9000, "Mutronix"
Torontonian newcomer Cory Gorski's dropped three albums in as many years, swiftly establishing himself both as one to watch and one of the very few people shining a somewhat different light on Nivek Ogre's incalculable contributions to Our Thing by drawing influence from his solo career rather than Puppy. Weaving fun, quirky, and bleepy tracks like this one aplenty, we're keen to see the profile of this project rise in coming years.
THYX, "Awesome"
We're still spinning mind.in.a.box's 2012 Revelations LP like mad, but that hasn't kept us from getting some kicks from Stefan Poiss' looser release this year, the debut from his less rigid side project. Big, sweepy, goofy fun that doesn't require rambling forum discussions about narratological frameworks.
Motor, "Pleasure in Heaven feat. Gary Numan"
We weren't so keen on Motor's record of electro vocal-collabs Man Made Machine, but heck if we aren't a sucker for Uncle Gary and this particular number has a nice bit o' mechanical grind to it. Had more of the album hit this sweet spot it coulda been a killer, but hell, this track has had some legs for us in the club and on headphones and sometimes one banger in the lot is enough for us.