"Voyeurism, vigilantism and getting away with murder."
Vancouver's tenacious cyberpunks Left Spine Down have earned a well deserved reputation through incessant touring of their feisty live show. The four piece (currently made up of vocalist Kaine Delay, guitarist Matt Girvan, programmer Jeremy Inkel and drummer Galen Waling) have emerged from a lengthy recording process with the legendary Dave "Rave" Ogilvie with a new album Caution, which is being released today on Metropolis Records. The ID:UD staff have been lucky enough to be previewing and enjoying the record over the past week, and sat down with Kaine and Jeremy in a well-appointed living room above Jeremy's home studio to discuss the ins and outs of recording, the gestation of the album and each of its tracks in a blow by blow rundown.
ID:UD What was the genesis of the new album? It has a very different feel, it's a very rich full-on rock record; is that something you knew you were gonna do or was it something that emerged from working with Dave Ogilvie?
Jeremy: A bit of both.
Kaine: When we started writing and piecing the songs together I turned to Jeremy like, "Dude, we're writing a rock record man!" There's slow songs and there's peaks and valleys and there's fast motherfuckers. The whole thing has a really heavy concept to it.
Jeremy: Versus the last record where we really set out to do a drum n' bass punk rock thing, whereas this time it was definitely going right to that. Slower songs, more melodies, lots more real classic rock stuff.
Kaine: When Rave came along he noticed that right away and a lot of his tricks and ideas and techniques really applied to what we were trying to do. It was a very friendly marriage that way.
ID:UD: Did working with Dave change your approach to recording?
Kaine: A little bit. I think he taught us to be less afraid to try new things but at the same time we were into that sort of thing anyway.
ID:UD: How did he come on board?
Jeremy: He's come to some of our shows…
Kaine: He was spying on us!
Jeremy: …and I'm friends with the singer of Jakalope (Crystal Leigh), she lived across the street from me at my old place. We had a few options for producers and we knew Dave was interested. It was really just a matter of a phone call, that was it. We spent the next four months piecing things together.
ID:UD: What was the studio process like?
Jeremy: There isn't one strict process that we have.
Kaine: We wrote a lot of the songs bit by bit over a few years. When we started to nail it down we went into Vogville and did one or two songs a day mixing it all down, but still adding shit.
Jeremy: I set up my synths at the studio and ran them through guitar amps and mic the room, just recording that way instead of via a direct in. I'd be working on one song while Rave was mixing another one. I'd get one last final say before a song went into mix, it gave us good opportunities. It wasn't conventional, but it was great, no pressure, it made sense. The best thing about programming is if you're listening to a mix and thinking "This needs ONE other thing" you can run back and record it and just punch it in.
ID:UD: What was the division of labour like? Who brought what to the table? Did you each demo stuff on your own?
Jeremy: All the demoing was actually at the rehearsal space or here, but I think conceptually the record happened here at the studio.
Kaine: Matt's been working on some new songs too, we're looking under the hood of those.
Jeremy: Once a song is pieced together everyone just assumes their role.
ID:UD: You have a reputation as a live, touring band. This is a really produced record. What's the approach on bringing these songs on tour going to be?
Jeremy: It's really just comes down to how are you going to present it, which is something we're still working out. *laughs*
Kaine: We have a technical blueprint on how to perform our songs live already, but now it's become more of a matter of trying new things. Who knows, I might have theatrics going on. It's gonna be pretty fun once it's out there, we're really planning this one. We're thumb wrestling a lot.
"There is a very dark criminal theme to the album, I wanna leave it to the listener to figure it out."
ID:UD: There's a definite thematic thread through the record. Where does that come from?
Kaine: My head, apparently. It just kinda came together in a haphazard crazy way. There is a very dark criminal theme to the album, I wanna leave it to the listener to figure it out. I'm already hearing some perceptions of what it could be from the song "X-Ray" which is up on the internet and on college radio. It's interesting, it's been nothing like what I thought people would think. We wanna leave it open to interpretation.
"I think we have nothing to lose as far as branching out. It's much more exciting to take that attitude."
ID:UD: It also feels very personal. A lot of themes on Fighting for Voltage were societal; Caution sounds a lot more personal.
Kaine: We wanted to come up with an approach that was closer to home. Yes, there's lots of stuff that bothers us about the planet and the way things are run but…
Jeremy: You can write political records over and over again, it's kind of the same message. Getting personal lets the listener interpret things. I think it can create a deeper meaning for people versus putting a political message in front of people, it's more black and white. When you leave things open-ended you can definitely stir up some emotions.
ID:UD: You've got an established fanbase at this point. Is that a consideration when you're working on the record?
Jeremy: We did think about that but we realized once we started putting the vocals in that it still sounds like a Left Spine Down record. We're still such a new band that I don't think we need to worry about that. It's not such a departure that people will tune out. If you're already into the last record, you'll definitely be into this one. A lot of bands do write the same style of record over and over, and that's fine too, but I think we have nothing to lose as far as branching out. It's much more exciting to take that attitude.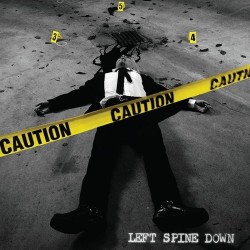 "Troubleshoot"
Jeremy: I wrote that in Toronto on my laptop on the SNFU tour. Just hackin' out ideas. That was like three years ago. There were so many attempts at it.
Kaine: I was scribbling notes for lyrics on the SNFU tour coincidentally. When he presented me with the demo, it just came together. That was a mishmash of notes from that ill-fated tour. Those lyrics never changed, and we did that a lot on this record.
Jeremy: We rerecorded the vocals a lot, that was what ended up being tedious.
Kaine: There was like a hundred vocal takes per song. It was laborious. *laughs* We weren't happy with it 'til the very end.
"The Truth is a Lie"
Jeremy: I can't get away from putting together total rock songs. I like to get intricate, but there's this one side of Left Spine Down that has a more raw edge to it, more straight up rock. My influences for that were Queens of the Stone Age, Nirvana. We needed something more uplifting.
Kaine: "Electioneering" by Radiohead was the first song I thought of once it came together.
"X-Ray"
Jeremy: That was the pinnacle of the record for me. Once that song came together I finally knew what I wanted the record to be. That was like the third or fourth song. It has a lot of intricacy and was the one that Rave really got into. He rewrote the bridge, he was definitely gearing towards it from when we first started listening to demos. We all knew we wanted it to be the video and single, whatever single means these days.
Kaine: Lyrically the song is about voyeurism, vigilantism and getting away with murder.
"Hit and Run"
Kaine: I can't wait to play that one live. Dead Kennedys meets Prodigy with the tempo knob turned down. Going again with the theme of the record. It was a lot of fun recording the guitars on it. It has one of the thickest guitar sounds on the record.
Jeremy: All the guitars were recorded by Glen Reely. He tracked our drums too. He's the brother of Greg Reely, the infamous mixing mastering guy. It's great when you get guys like that in because they're total gear nuts. They take stuff that would be tedious to you and make it an art.
Kaine: He brought in this gold plated room mic from his own personal collection, just this giant dildo of a mic. *laughs* Sound geeks are awesome.
"On the Other Side"
Jeremy: The lyrics were written at 5 am, wasted drunk when I got home from the FLA European tour. The music was conceptualized four months earlier just before the Midi Ghetto tour (with Chemlab and 16Volt). I remember I had Jared Louche here and he thought it was cool, it came together really fast. I was in a weird dark place when I wrote it. It's one of the most personal songs I've ever written. It's extremely different from anything we've done. I like the uniqueness of it.
Kaine: I must have been in the same dark place because I related to it immediately. It's the classic turning point song for a rock record.
"Stolen Car"
Kaine: We wrote it a long time ago. We had rewritten it and rewritten it, chopped it up, threw it away, dug it up again, wondered what we were gonna do with the lyrics, etc.
Jeremy: I started that song in a mall on my laptop. I was working at a kiosk that my roommate Miriam and I had for her business Flaming Angels, once again just coming up with an idea on the spot. It pretty much stayed the same from its inception, we just replaced the sounds with better sounds. *laughs*
"30 to Zero"
Kaine: It was an attempt to complete each others sentences. We both worked on it meticulously.
Jeremy: It was an attempt to do something more detailed. I wanted to do something epic. There had been a few attempts already, it was floating around conceptually for a while. It took a while to really get down. There was a lot of stuff that happened to it in the final four months, for all the songs really. We wanted to push some boundaries on harmonies.
Kaine: And on my larynx. *laughs*
Jeremy: On our last record we fell into the same sound a lot of time. This time it was okay for us to be a little more lush. It almost became the single but it's impossible to edit down to a four minute track. Every time we edit something out of it it just doesn't work.
"Overdriven"
Jeremy: That was written by the whole band way back. It actually features our old drummer Tim Hagberg. Greg Reely recorded him during the Voltage 2.3 sessions, they were perfect, there was no need to replace them at all. Jared Slingerland [currently of FLA – ed.] and Denyss McKnight too. That was one of the few times we all got together in a space and put a song together live. That's not the normal way for LSD at all.
Kaine: We haven't done that since have we? Probably because we fought a lot.
Jeremy: At the time we wanted to do a whole record that way. It was good, it hasn't changed at all since we first played it out. I pulled back on the electronics so it could have more of a live feel. Every time I tried to add synths it felt like too much.
Kaine: Lyrically it was the catalyst for the whole record. The flood gates were opened by it, it was like "Oh shit, here we go again". A flood of themes and ideas that came out of it, just spewed onto paper or digital whatever.
"Nothing to Fear"
Kaine: We started it just before the Revolting Cocks tour. We hacked it up, fucked it up, the lyrics were written after.
Jeremy: It's gone through like three facelifts. Even in the last few months I replaced most of it, replaced my old drum loops with new ones. The ending was rewritten like three times also. One of my favorites.
"Caution"
Jeremy: The lyrics were written on the RevCo tour on our way to Florida. I had a demo from our summer sessions in mind when they were written. That one was completely different for LSD, totally exciting.
Kaine: That and "Troubleshoot" were the bookends, just two totally different songs for us.
Jeremy: The overture at the end, I just love it. Meghan Engel did such a great job with the strings. She's awesome. She was actually on Strapping Young Lad's The New Black and several other Vancouver sessions. Also, a keyboard and strings player Rave uses a lot named Colin Janz contributed to the strings and helped out with the piano parts.
Kaine: This is the first album where we embraced outside musicians and tried different things. We thought about the album as an album instead of just a collection of songs, you know, starting and ending the album with scratching and strings. Also with me shutting the hell up for two minutes. *laughs*
Hidden Track
Kaine: Classified information. It's a social experiment involving everyone who listens to the album. I have no idea what that was, we were given cassettes one day and that's what they were. I don't remember a damn thing, that's my story and you're sticking to it.
—
Caution is out today on Metropolis Records. Buy it here.