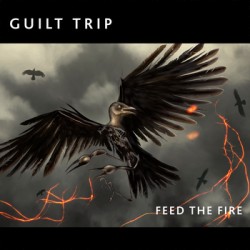 Guilt Trip
Feed The Fire
Complete Control Productions
Despite Feed The Fire being their fourth release, Guilt Trip's likely a new name to the majority of North American audiences. The Swedish duo of Karl Lindberg and Magnus Nilsson started out as Chirurgie Esthetique in the early 90s, gigging, dropping a few demo tapes and making compilation appearances, but never issuing a proper release as such. Under the Guilt Trip moniker they've self-released three albums over the past ten or so years (a couple of which can be snagged for free), but this is the first that's seen release from an outside label, and CCP's a good fit for their fusion of electro-industrial and EBM.
There's a cocksure confidence communicated on Feed The Fire which no doubt comes from having been in the game as long as Guilt Trip have. This places their debt to Skinny Puppy and the overarching "Vancouver sound" they cite in their press material in a different vein than that of, say, Necro Facility (or any of the other artists on our recent mixtape) – rather than the result of a conscious decision to return to that style, it's an extension of the climate in which they began working, and which no doubt heavily influenced their decision to begin recording in the first place (don't think I'm reaching – the title of penultimate track "Braptism" was also a working album title, and their self-released titles appeared under their Brap.org heading). In any case, working in a circa-VIVsect Puppy mode works well on the aforementioned "Braptism" and Israel/Palestine track "Inanimate". The vocals on subsequent "Eternal Return" owe similar fealty to Ogre but don't hold up as well.
Feed The Fire isn't all about the Kevins, though. Like label-mates The Pain Machinery, Guilt Trip are also a European band drawing from Anglo expressions of EBM. Nitzer Ebb and Portion Control are well ahead of continental sources in the influence queue, and punchy lyrics about personal gripes and social struggles supersede menacing calls to dance or more ominously vague affairs. Opener "Headplate" kicks along with a bassline that nicely bridges the gap between early EBM and the hiccuping bass rhythms which are cropping up in contemporary electronic music of all stripes, well outside of the confines of Our Thing.
That said, Feed The Fire is strongest when its two main strains of influence are synthesized, as on "Once A Week Twice A Day", which connotes both the more skittery side of S'Puppy and the simple but addictive beats and basslines of Portion Control. "Breathe" is another solid piece of work, switching back and forth between the more florid and lushly produced corners of electro-industrial and that intriguing hybrid of EBM and acid house which The Pain Machinery recently alighted upon.
While the record never feels like it's specifically aiming for a retro-industrial feel (a trend we've seen a large uptick of in the last year, for better and worse), Guilt Trip's long gestation period makes what will likely be the majority of the scene's first exposure to them sound smooth and capable in its handling of classic sounds. Despite running just a titch long (I could've done without the cheap shock silliness of closing track "The Bright Side Of Lies"), Feed The Fire works well as a clearing-house of influences, and makes some subtler moves towards how those influences can be brought forward.