There's probably no year end tradition we enjoy here at the HQ enjoy more than this particular round-up. Maybe it's because the records that the Senior Staff are high on are in no way a mystery to each other, or perhaps it's because it offers folks whose opinions we respect and are curious about an avenue for folks to stump for a release they feel strongly about, but it never feels like we've entered the final part of our annual coverage (for the twelfth time this year!) until we receive, format and post this article. Here's a guide to what some of the coolest folks we know were listening to, the annual Friends of I Die: You Die 2022 Favourites post!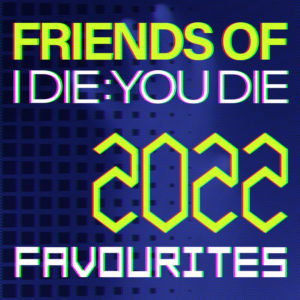 Gino Ritmo & Ricci Verace – Night Shift (Part 1)
Every year, I look for the record that brings me into extreme audio addiction and I know exactly what it is when I hear it. I know how it makes me feel and how I get an insatiable craving to hear it and the listening adventure created. This year that album is called Night Shift (Part 1) by Gino Ritmo & Ricci Verace out on CAF?. It's fun, it teases every sound that I love, sexy synth, trippy wave, slaying hot vocals with EBM hits that pack a punch! Put it on when you clean the house, or for your workout, let it send you into a beautiful dark listening world of love, it serves every purpose! Can't wait for part 2!

Treha Sektori – Rejet
Although this album technically came out in late 2021 and I spent a lot of time listening to it near the beginning of the year, it has again featured heavily on my playlist in recent weeks. It's gratifying to find something in the too-often stale "dark ambient" genre that is understated while still being engaging. There's something primordial about this release, what it might have sounded like when human beings first started to experiment with their ability to make music (provided you can suspend your disbelief about the obvious use of modern electronics) and it grows from the extremely primitive to incorporate more and more recognizably "musical" elements as it goes. It's perfect for our non-daylight-savings months: dark and quiet and encouraging reflection with a sense of mystery.

Euroshima – Gala
Once known as the holy goth grail, Dark Entries' vinyl reissue of the 1987 LP Gala by Euroshima was a highlight of the year. The Argentenian band's music became that of legend because Gala was Euroshima's only output — and it used to be extremely hard to get a hold of. As an obscure record attained by a few lucky collectors or an album that was listened to on less-than-perfect Youtube rips before a CD reissue in 2020, a wax release was well overdue. With their raw, emotional post-punk music underneath the sorrowful yearnings of their vocalist, Wanda, Euroshima hits the goth sweet spot. Somewhere between the synths and gloom lie the dark perfection of Gala.

Kumo 99 – Body N. Will
This lo-tek masterpiece digs its claws into you and drags you through the grimy streets of wherever you are tonight, to whatever underground rave or afters is the closest. The duo that is Kumo 99 blends a dark electronic feeling with D&B breaks and jungle moments and soft synth breaths. Each song hits you with sweat, speed or a sensibility of late-night self reflection. As is common with Kumo 99, all lyrics are presented in Japanese, to which Ami Komai has responded "Making the choice not to write our lyrics in English is a political act. Our lack of translation is political". Under her voice, Nate Donmoyer flexes his advanced rhythmic assault skills that will force movement through your body, against your will.

Hada – In The Heart Of An Endless Winter
One of the most atmospheric releases this year, Hada returns with In the Heart of an Endless Winter. The duo consists of the prolific Babis' instrumental time-spaces drawing from sci-fi, folk, post-punk and ethereal goth, and Natasa's otherworldly, mesmerizing vocals paired with visceral, evocative lyrics. This album conjures my favorite 90's ethereal goth hits to mind, music that transcends the flesh into alternate dimensions of being; beckoning you not just to dance, but to follow them through the looking glass. Reminiscent of bands like Lycia and Love Spirals Downward, this album will dig its way into the deepest chamber of your heart.

Yeah Yeah Yeahs – Cool It Down
My most beloved record of 2022 is undeniably 'Cool it Down', from one of my longtime favorite bands, Yeah Yeah Yeahs.
I think often of how wonderful it is to be a fan: to really look forward to when your preferred artist releases something new, to pour over new music with care and devotion, to have a band in your heart that is worthy of that love, and doesn't disappoint with age or become jaded, resting on their laurels. It is important too, that the songs of one's choice act can take on their own meaning, become embedded in a life autonomous from the artist, as the soundtrack to a personal history.
This record, for me, is undeniable evidence that Yeah Yeah Yeahs are worthy of this kind of affection. There are so many levels of the subtle and profound on Cool it Down, dealing with perhaps more epic themes than the band's previous albums. It feels like it's about the end of the world, and what happens after that, and also about a trio that is in a long term relationship at this point, and somehow the cherishing of that experience is evident in their music.
I have wept while driving in cars and waiting in train stations with the beauty of the ballad 'Blacktop', and danced endlessly in the kitchen to 'Wolf' on repeat. The Spector-esque magic of 'Burning' is equal parts grown and sexy, seething and hopeful. I love this record for the point in my own life in which I meet it, and the decades that Yeah Yeah Yeahs have been in my head. I am so proud to be a fan when it feels like this, and so grateful to this band for continuing to grow and delight.

Schedule 1 – s/t
My friend of excellent taste recommended this to me at the start of the year, knowing I'm a sucker for the darker shades of punk, and bands that appreciate Second Empire Justice-era Blitz. He was right on target, because I've been listening to this record non-stop, and telling anyone I can about how great this record is. I don't want to dissect each of the six tracks of the record, but to sum it up, I wish this album existed when I was a kid. It's an album that 12 year old me could nerd out over with (redacted) year old me.

ESA (Electronic Substance Abuse) – Designer Carnage
Designer Carnage is an industrial odyssey that takes no prisoners and leaves a wake of destruction in its path but manages to bring you back from the brink of total exhaustion to leave you with an exceptionally danceable meditation on the modern world. Featuring jazz breaks, harpsichord, and saxophone, Designer Carnage brings the musical history of Jamie Blacker into focus with varied instrumental and vocal features that truly make it the most eclectic EBM release of the year, for only the most sophisticated of palettes. Themed around social media bleeding into real life, Designer Carange's underlying sense of urgency maintains the modern ideology of consistent engagement. In addition, I was honored to be part of the creation of this record, with my vocals featured on three tracks, so this record shaped my year in music.

Primer – Incubator, Konkurs – Mind Stimulant
When the Senior Staff approached me about writing about an album I felt strongly about, two different releases came to mind so you are getting two sales pitches for records I believe in strongly that I feel really moved the needle this year.
First up is my most talked about and listened to LP of 2022 – Incubator by Primer. What struck me about this album was the contrast between the super modern up-beat music and vulnerable and sad subject matter. It's hard not to empathize with Alyssa Midcalf when she sings *I swear to God it's not the life I wanted but I'll sacrifice my need to be with you" as part of the dance floor bop "Anything". This album is fantastic start to finish and is a great entry point to the building modern synthpop wave that has been gaining strength over the past year.
The second album I wanted to talk about is Mind Stimulant by Konkurs, the collaborative project by Blush Response and Sarin. What struck me about this release was how they purposely set out to build their LP around film samples, not unlike a classic Skinny Puppy or FLA album. These tracks would do great mixed in at an old school EBM night or at any sort of industrial rave without sounding too techno – an impressive feat by two dudes very well versed in the Berlin techno community. Put this in and get ready to stomp.


Rroyce, Rroarr
Checking Spotify's Release Radar and losing my shit – that's every Friday, right? Sometimes, the music is just too good and the steamship of my emotions runs into the iceberg of newly minted electro-industrial-whatever. Sell the Sins by For All the Emptiness – cried. So Below's feature with Seven Lions – cried. The list goes on. One album stood out to me, though, both for replayability and the fact that EVERY SONG is good. Rroyce. Their album Rroarr. Came for the debilitating amount of R's, stayed for the expert blend of bright, danceable synthpop and dark, mischievous vocals that checks all my boxes. Rroyce had my attention this year with their army of Rrrrr's, and you will likely enjoy their stuff as well. Listen to the songs "Another", "Paranoiac Sl", and my favorite, "Venom".

CZARINA – Arcana
One of my favorite artists of the year is CZARINA, whose sophomore album Arcana is a genre-bending mix of synthpop bleeps, darkwave guitars, vocal acrobatics, and at its most abstract moments, prog rock drama. "Atomic: Ad Initivm" is an explosive anthem that's partially sung in Latin, but the album's best moment is the thrilling, exuberant "Excelsior," in which CZARINA performs a rhythmic chant that's unlike anything I've ever heard. An incredibly ambitious artist, CZARINA has also built a strong rep for glossy, high-production videos that feature magical effects and stunning costumes.

Sacred Skin – The Decline of Pleasure
There were a lot of great albums released this year, but I found myself constantly coming back to this one to listen to again… and again… and again. My favourite tracks are "Far Away", "Colder" and "Circles" (which was my top track on Spotify this year). But honestly, the whole album is so awesome that I think perhaps the album name should have been the "Ascent to Pleasure", but maybe that's an ASMR album waiting to be made next. Haha!

Corlyx – Blood In The Disco
The explosion of dour, downtrodden post-punk over the last decade has not been unwelcome, but the bands with mirth and liveliness catch my attention more than any others. Such is the case with Corlyx's sophomore album, Blood in the Disco. Their first album for Out of Line Music, it features plenty of punchy post-punk guitar riffs, but with dramatic darkwave synths and pop sensibilities underlining the hooks and Caitlin Stokes's expressive femme vocals. "Raindrops (ft. Massive Ego)" is darkwave catnip for local dance floors, and "Take off Everything" should be heard by anyone's who's been taken with groups like Actors and Twin Tribes. The injection of new wave and 80s pop into the dark post-punk foundation Corlyx established with their debut makes their sound feel elevated, energetic, and downright fun. I'll be getting DJ setlist mileage out of these tracks for years to come, but it's a great record in any possible setting.

Vandal Moon – Queen Of The Night
I have to confess that I didn't want to like this album as much as I do, but I felt that way about First and Last and Always the first time I listened to it, so clearly I need to get over myself. Queen Of The Night manages to combine gawthrock touches that seem straight outta Leeds with cinematic synthwave and a glossy sheen that I can only describe as "Californian." Tracks like "Young. Deadly. Beautiful." and "Kiss Me Goodbye" are gorgeously danceable, suitable follow-ups to the the title track on previous album Black Kiss (which instantly transported me to dance floors flooded with London After Midnight's "Kiss" the first time I heard it). Here, the title track "Queen of the Night" creates a nocturnal soundscape that reminds me of driving to a California cliff and watching the city lights glimmer through the smog, while "Sweet Disaster" has the kind of driving synth and gawth drum machine you might find in early Sisters. "Easy to Dream," one of my favorites, meanwhile, turned me on to Belarrussian act Dlina Volny. I'm a sucker for male-female duets, especially when the vocals are as sexy as Blake Voss and Masha Zinevitch's. The whole album is highly worth your time, and don't follow my lead by wasting a second feeling guilty about how much you're enjoying it.

Thanks so much to our friends for joining us in our annual tradition! Come back Monday for the first ten entries in our annual I Die: You Die Best of the year list!