Hey, Chochacos! I'll be down in sunny Florida for rest of the week, doing what everyone who heads down to the panhandle at this time of year does: attending an academic conference at the airport Marriott (in all seriousness, I'm over the moon about this trip and will be in geek heaven the whole time). But the world doesn't stop releasing new music just cuz I want to get all tweed jacket and footnote-ish, though, no sir, so let's get right to another Monday's worth of fresh cuts.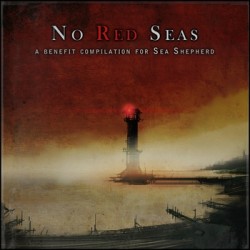 Cindytalk, "Haru​-​ichiban"
After having come across no less than three animal-related charity comps in the past few months (Justicia Pro Bestia, More Than Nine Lives, and Compilation For A Cat), we're excited to have come across another, this time for the sake of our fishy, rather than furry friends. No Red Seas is a fundraiser for Sea Shepherd and is a whale of a comp (see what I did there?), featuring 54 tracks from across the goth, neo-folk, ambient, and avant garde spectrum. I'm gonna be chewing on this one for a while, but one of the names which immediately leaped out was Cindytalk. I had no idea that Gordon Sharp (who you young'uns might also know from a little project called This Mortal Coil) had reactivated the legendary and relentlessly experimental outfit, let alone dropped three albums in as many years (here's a solid review from our comrades at Brutal Resonance to get you up to speed). Looks like I've got some catch-up to play. In the meantime, here's the shimmering, phasing ambient cut Cindytalk contributed to No Red Seas.

Soft Riot, "Variations on 'Another Drone In Your Head' by Mild Peril"
Jack Duckworth, formerly of Primes, Radio Berlin, and A Luna Red (quite possibly my favourite Vancouver band of all time apart from Puppy) has a new dark and weird solo synth project happening in his current home base of London. Soft Riot's second EP, Another Drone In Your Head can be had for a pittance on bandcamp, and features all manner of spacey analog fun, including this mix, which should appeal to Tangerine Dream and Gatekeeper fans.

Schism Trace, "Last"
A relatively new and off-the-rader project from Sweden's Andreas Franzén, also of Microbody. The basslines have a grimy, old-school feel somewhat similar to Severe Illusion, but with a nice, heavy melodic overlay. This and one other track can be downloaded for free on the band's Soundcloud, hopefully there's more in the pipeline!

Dead Hand Project, "Prick"
Ex-Hex Rx'er (say that five times fast) Taury Goforth's new project, Dead Hand Project, has just followed up their debut LP with an EP on Vendetta. DHP serves up blunt, beat-heavy dark electro, delivered with a particularly rock flair. The lead cut's a nice, no-bullshit, no-prisoners, clackety banger.
The Break Up, "Love Song For An Android"
As a follow-up/thank you after the release of their debut LP Synthesis (discussed in these very pages not long ago), Seattle's The Break Up have just posted a previously unreleased track. Crackling and pretty, it's a much mellower turn from them.