The 2012 record release season is starting to pick up: between scoping new stuff and repeatedly deep-frying my brain in the depths of the stunning Throbbing Gristle reissues, I haven't even had time to boot up Skyrim in over a week (and a Dovahkiin away from Tamriel is barely a Dovahkiin at all). Anyway, we'll continue to do our level best to keep you up to date with the best releases Our Thing has to offer (and all record reviews come with a 15% chance of a pro wrestling and/or Wu-Tang reference: that's the ID:UD guarantee!), starting this week with our traditional Monday overview of some new cuts that have come across the desk. Enjoy!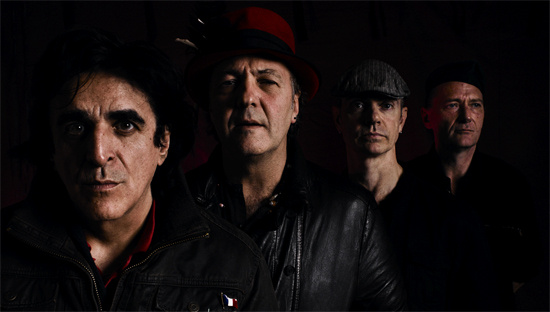 Killing Joke, "Rapture"
The reunited, reinvigorated original line-up suits up for another sortie, and you won't believe how well Jaz nails Debbie Harry's rapping! Nah, just joshing. I've enjoyed all of the post-hiatus albums (especially Hosannas) for their balance of songwriting and monstrous heaviness, and while I like this tune well enough, I'm hoping that the flat mix is just a byproduct of a low-quality YouTube upload.

In Death It Ends, "Advocate"
Porl King (formerly of Rosetta Stone, now of miserylab) has been dropping some tracks for a new side project which drapes itself in witch house signifiers but on the other end of the semiotic equation actually sounds like dark ambient with some downbeat tics. A nice little head-nodder that's sexier than the boiler-room atmosphere suggests.

Titans, "It's Dark"
Swedish label Progress Productions dished out more than enough great releases last year (from Necro Facility, Henric de la Cour, Kite, and Cryo, amongst others) to move into the "if it's from them, we'll check it out" ranks – check back tomorrow for some thoughts on their first release of 2012. Up next is the debut from suave synthpoppers Titans, which'll drop towards the end of March. What's perhaps most striking about this are the vocals: clean, laid-back, and mixed far more "naturally" than stuff this beaty ever really gets.

The Gothsicles, "Save Dat Mermaid (TBM IS SRS BIZ MIX by Mangadrive)"
WTII just offered up a free 12 track digital sampler chock full of exclusive cuts and remixes from SMP, Klutae, Stromkern, and Stiff Valentine amongst others (stay tuned for more free compilation fun later this week). Here's a super-slick remix of 2011's best song about Konami platformers by Mangadrive, whose frantic, glitchy steez is a great fit for Brian's 8-bit walkthrough commentary. If the Nintendo Fun Club had offered tips set to slamming shit like this, we might've just taken Doc Louis' advice all those years ago and joined.