It doesn't matter how big of a record nerd you are, how deep and wide your knowledge of your chosen genres runs, there's always more. Always something, new or old, which is just waiting to be discovered by you, and that's awesome. We're not sure if Socrates or Tim Armstrong said it first, but the old "all I know is that I don't know" aphorism should be taken up as a marvelous daily affirmation (fuck, I sound like a yoga instructor). Stay hungry and humble in this game, and your listening skills will not only be sharper, but you'll be rewarded with some awesome new music. Here's a healthy dose of off-the-beaten-track stuff from bands I've only just recently been pointed to.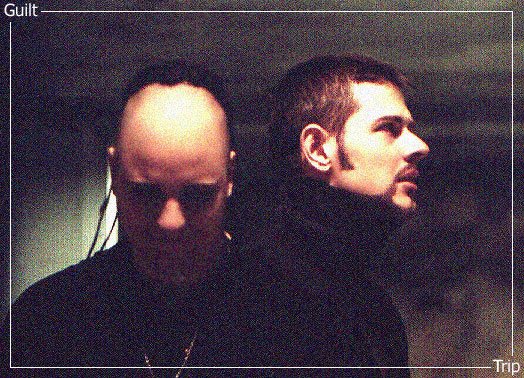 Guilt Trip, "Oppression"
Stockholm's Guilt Trip is due to release an album on Complete Control Productions, the label who stunned us last year with no less than three excellent LPs from bands we were completely unfamiliar with, so we're more than keen to check these guys out in further detail. Here's the b-side from their new single, which looks to dish out post-industrial of a classically Canadian sort.

Head Trip Conception, "Neuart"
New York's Head Trip Conception offer up a solid free EP of beaty, EBM-influenced emotive stuff which reminds me of The Present Moment's first LP. I like this saw-tooth heavy track in particular.

The Eternal Fall, "Always It's The Same"
Here's a nice blend of swirly guitars and misty synths from long-running Spanish darkwavers The Eternal Fall, who've just dropped a double album. A tad reminiscent of Corpus Delicti, perhaps?

Scorbie, "In Death We…"
American transplant Aaron Hannum has been releasing synth rock records out of Manchester for some time now. There's a clear nod to Numan's latter era work in this stuff, but it's pushed in a different direction by the vocals, which recall the wistful style of Hannum's other big influence, Tom Ellard of Severed Heads.

Siiii, "Over"
British post-punk outfit Siiii have just released their first record…almost twenty years after having recorded it. Ancient compiles tracks from between '83 and '86 and should definitely appeal to genre aficionados, kicking between the lyricism of The Chameleons, and the frantic, rhythmic violence of 1919.

Axl Hazarika, "Don't"
American coldwave: now in India! Indian metal artist Axl Hazarika has been experimenting with industrial territory on his new record. While much of the project skives a tad too nu-metal for my tastes, I like this breaky cut.