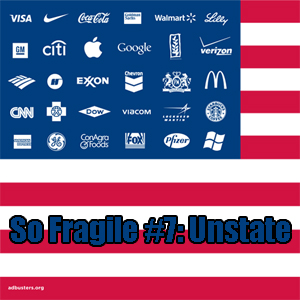 We didn't intend for this mixtape to feature a lot of Canadian acts, but it's bound to happen from time to time when you hail from a land with as storied of an industrial culture as ours, where moose wearing government-supplied Numb t-shirts frolick in the pristine northern wilderness to the soothing strains of Caustic Grip, while gas-mask clad Mounties have gay marriages officiated by Jim "Braineater" Cummins. Don't let news broadcasts of Toronto fool you, Americans, that's just propaganda meant to keep you from flocking up in droves to steal the complete sets of Puppy 12″s each Canadian is given at birth.
Okay, enough jingoism. We wanted to serve up an aggressive blend of guitars and electronics on this tape, and we're pretty happy with the end result. As always, all tracks on this mixtape have either been purchased from or were freely distributed by the artists. If you like what you hear, dig deep for some shekels and support some awesome musicians! Stream or download from the bottom of this post.
Mindless Faith, "The Thirst"
The opener from MF's most recent album Just Defy is pretty indicative of the record as a whole, showcasing their talent for clever transitions and dynamics. Also love that they understand how to be heavy without clubbing you over the head. Speaking of clubbing, we'll be giving this one some DJ slot real estate this year.
Inure, "The Call"
A big thank you to Inure's Adam Moore for providing us with a sneak preview of his Metropolis debut The Offering, which we'll be giving a full review shortly. This hooky number is one of the standouts with some excellent subtle production touches, possibly courtesy of Imperative Reaction's Ted Phelps who worked on it.
Fractured, "Fly Away"
This was a record that got a lot of heat in 2011 but which we never really discussed on ID:UD. Look beyond the cut-ups and the ever-divisive use of wub-wub for the melody on this one and you may see why the record got a lot of year end love on various lists.
Caustic, "Emmanuel Lewis Handjob (Null Device's Secret Passage Mix)"
A free download released as a thank you at the end of 2011, Caustic's Justin Bieber's Never Say Never did a nice job of clearing house and was a nice curlicue on Matt Fanale's banner year. A cool remix from Null Device, and if you can read the song title without giggling you're a better person than we are.
Stiff Valentine, "The Bleeding, Landscape Body Machine Mix"
While we've talked about SV a fair bit, we've been remiss in not giving any love to their frequent collaborator and Vancouver's best kept secret, Landscape Body Machine's Craig Huxtable. This radical reinterpretation somewhat recalls the frantic washes of breaks he dished out on his 2002 Revolution EP, and we're very happy to have heard through the grapevine that Craig (an instrumental figure in both of our personal histories with Vancouver's industrial scene) has a new project in the works for 2012.
iVardensphere, "Chasing the Dragon (Reconstruction by releveleR)"
A pleasant reconstruction of one of the best and most unexpected tracks from iVs' superb 2011 LP APOK. Growing up under the auspices of Canadian Content laws which tend to prop up mediocre acts, we've made it our personal prerogative to try to push Canadian bands who don't reap the benefits of said legislation.
Encephalon, "The Killing Horizon"
Speaking of Canadian bands we're pushing, Encephalon are beginning to achieve Dirk Ivens/Daniel Myer levels of over-exposure here at ID:UD. But fuck it, we're happy to continue to celebrate a record as deep as The Transhuman Condition, and "The Killing Horizon" flutters back and forth between pizzicato guitars and pounding beats with the acumen that made THC our favourite album of last year.